Data collections
​There are a number of ways to view your data including from the home page which shows your previous and next visits, and from the visits page which shows all visits for the currently selected proposal. Click a visit to see data collections associated with it.
Using either of these methods will show a list of data collections for a particular visit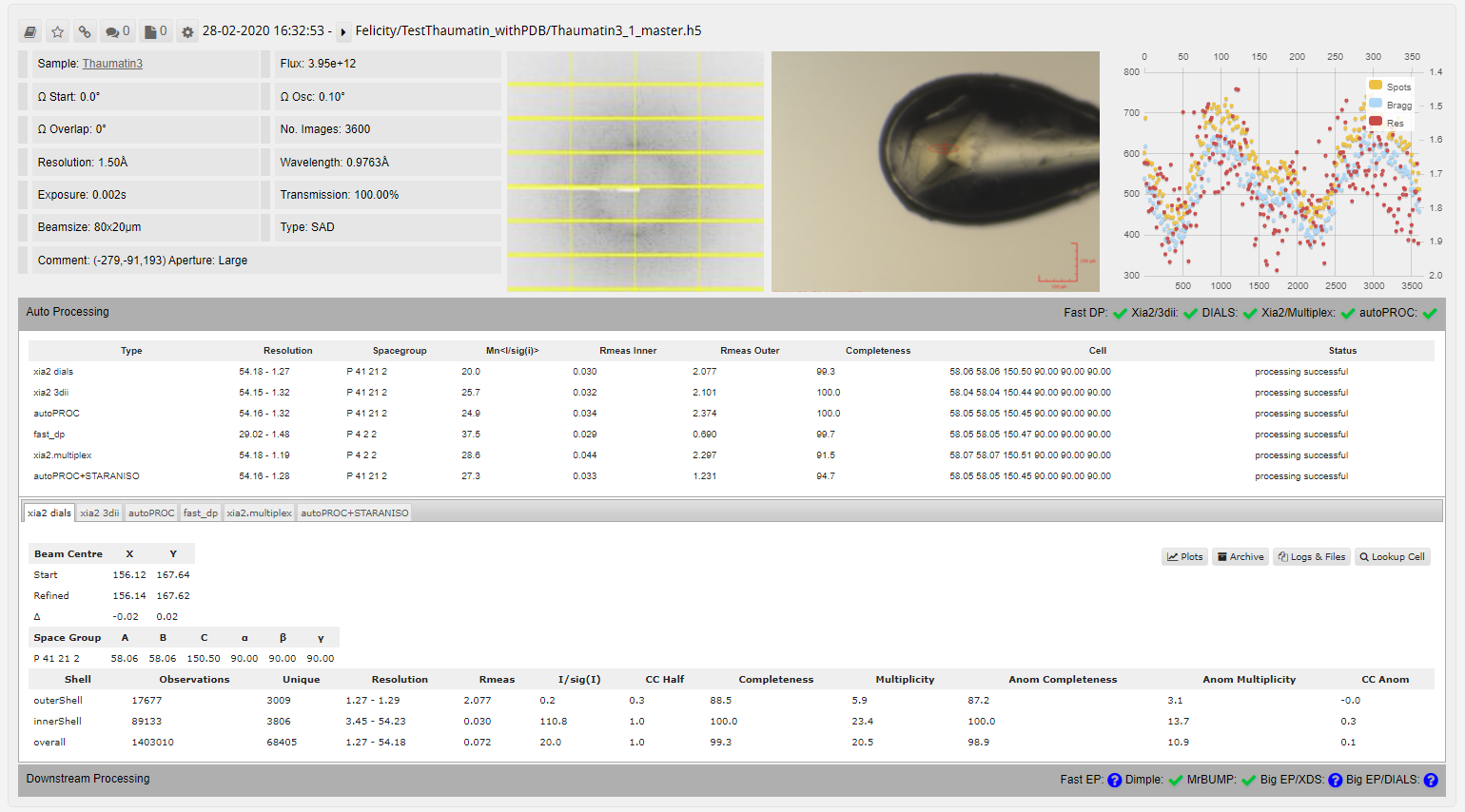 From a data collection you can:
See live processing of the data collection
View low resolution JPEG diffraction images for each data collection. Ideally a viewer such as DIALS image viewer, ADXV, ALBULA should be used to view.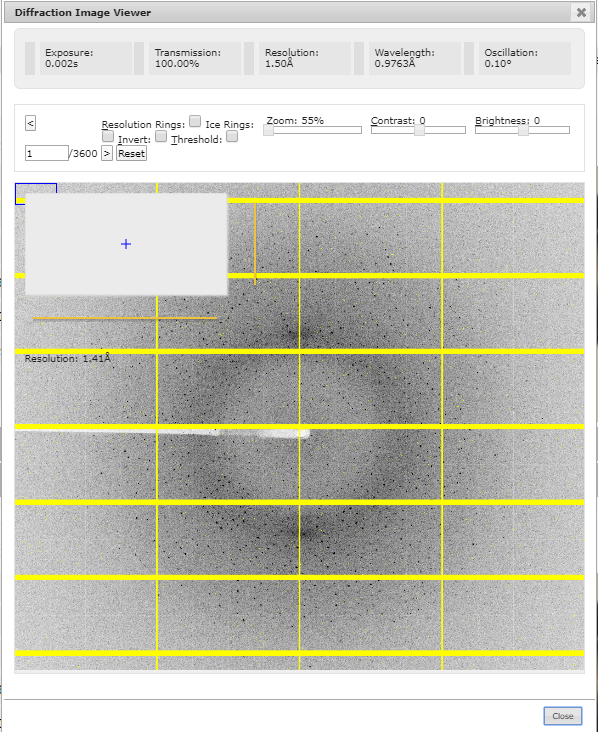 View snapshots of the crystal taken using the optical camera

This is done by clicking on the image of the crystal/loop. These can be cycled through, and show the centered cross hairs and expected beam profile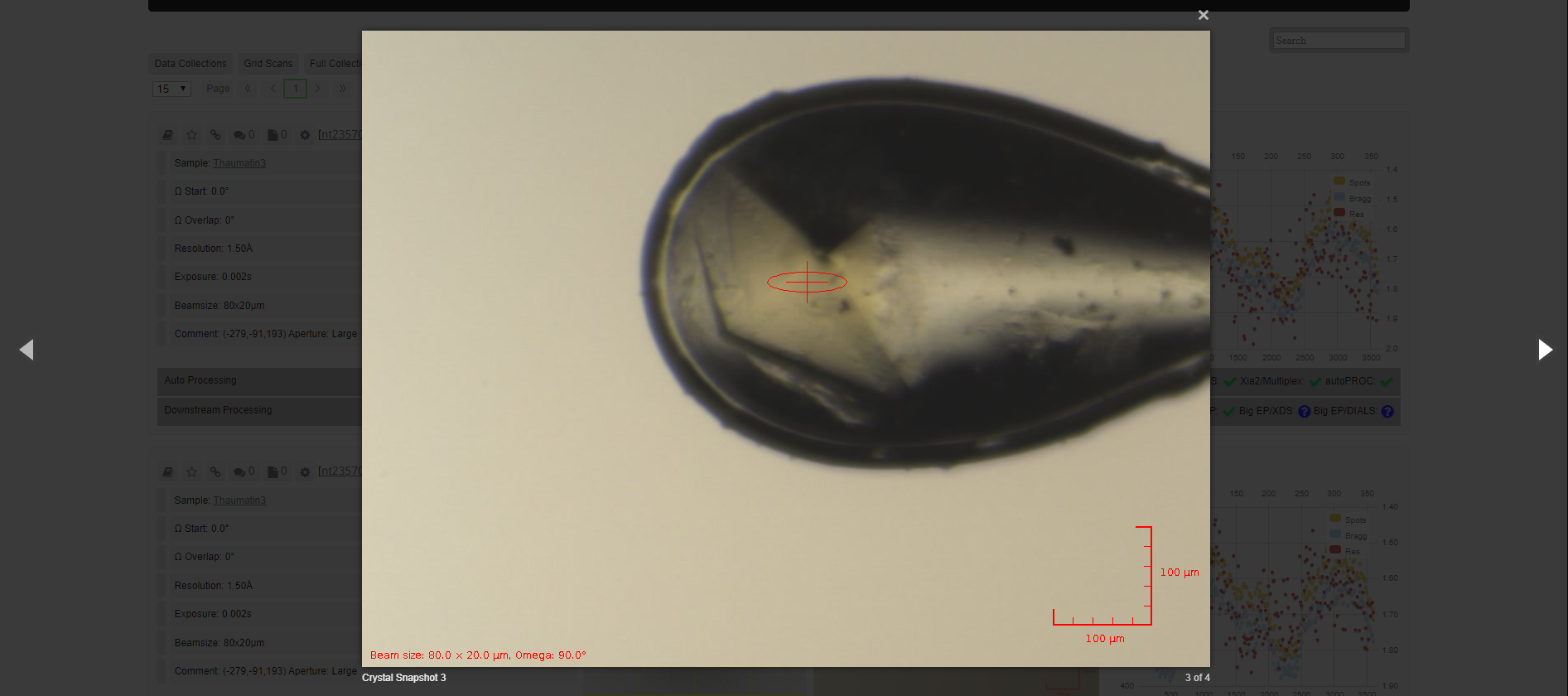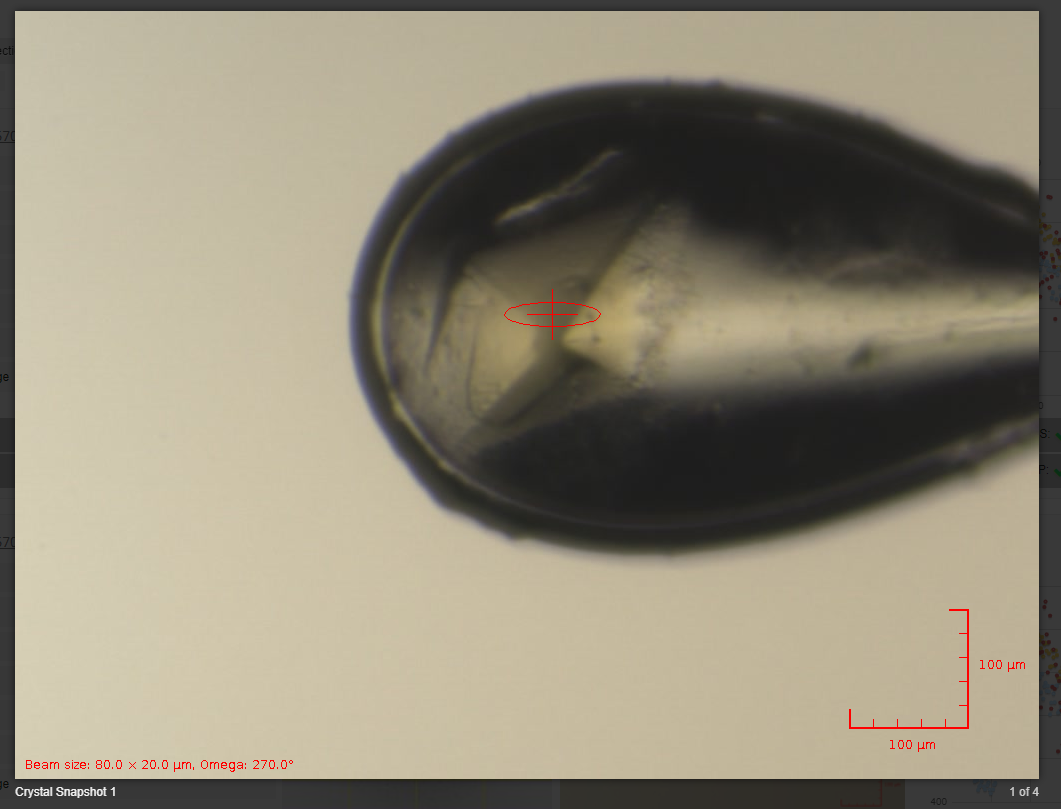 See autoprocessing results from FAST DP, xia2 3dii, autoproc, xia2 DIALS
See downstream processing using FAST EP, MrBUMP, BIG EP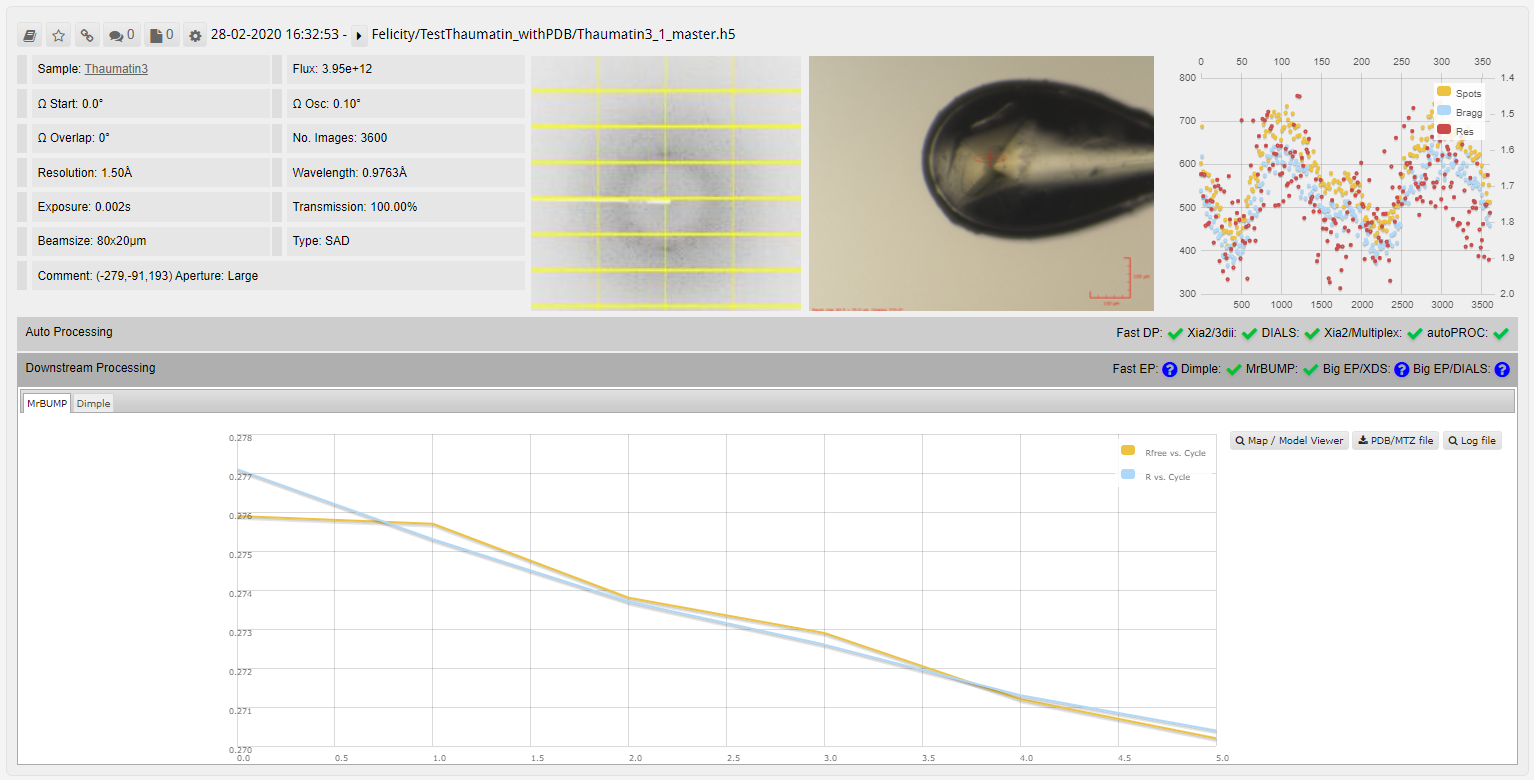 See the status of processing jobs

Download data and log files from autoprocessing.

These are accessed per autoprocessing method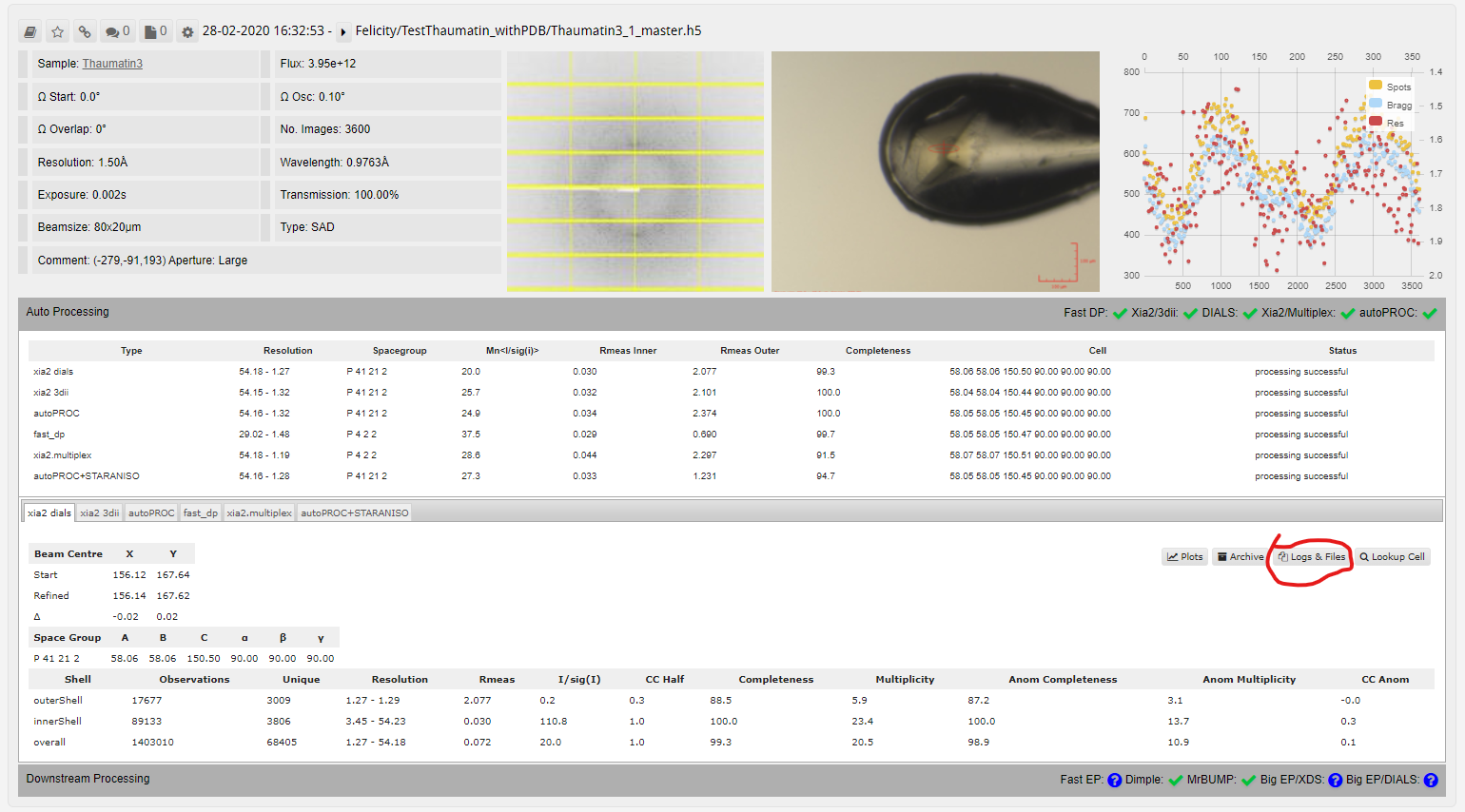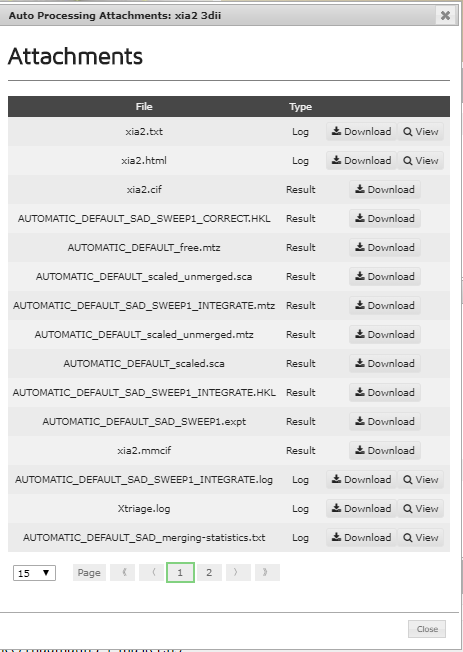 Xray Centering & Grid Scans
ISPyB shows a preview of grid scans and the diffraction measured in those grid scans. If X-ray centering is being used then two grid scans are seen per sample.
Note that the top bar can be used to select only grid scans from the data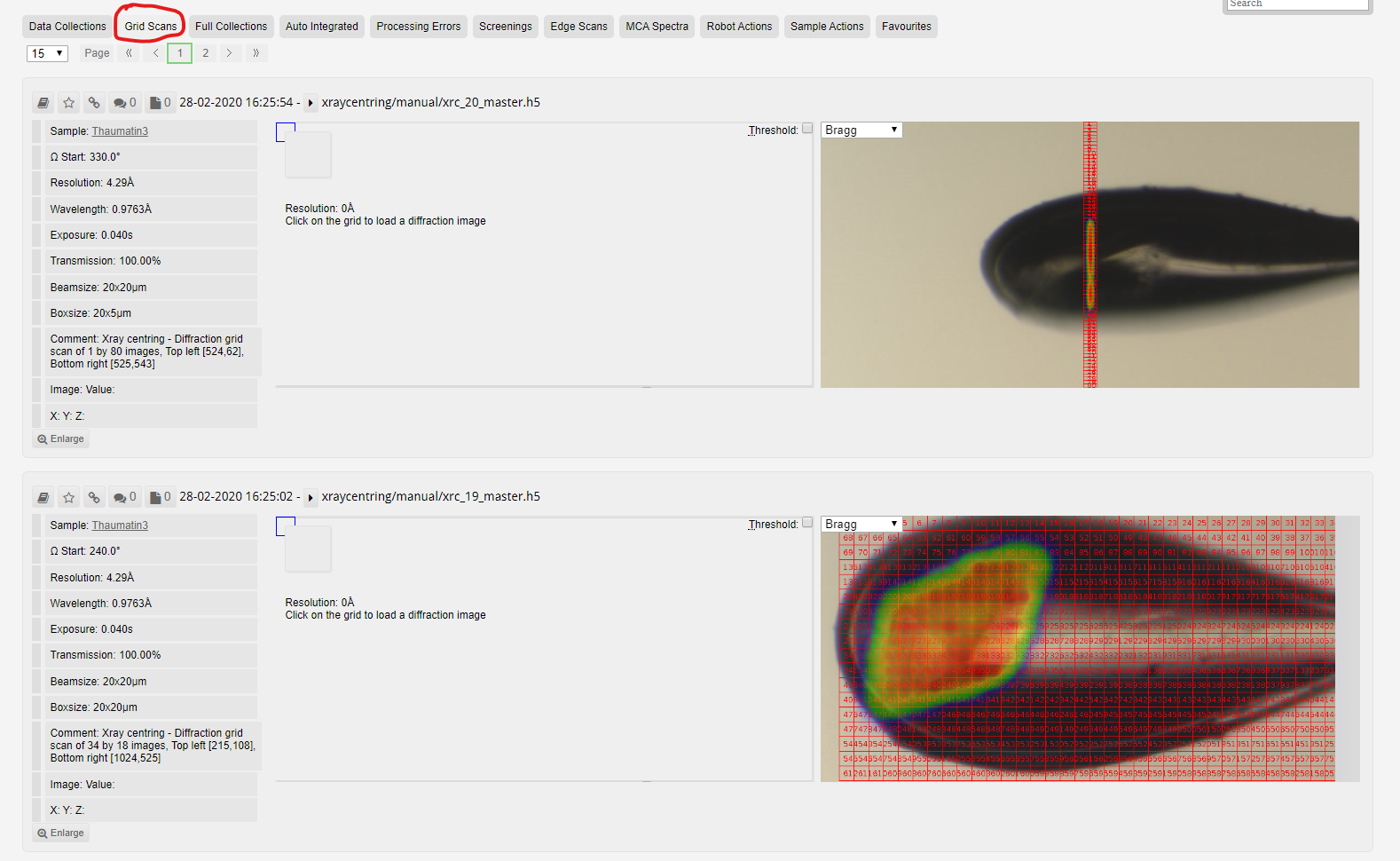 It is possible to view the diffraction from each grid square, but these are low resolution JPEGs which should not be used to solely judge diffraction:

Edge Scans
As with other data collection types, edge scans can be selected from the top bar for the visits.

MCA Spectra
As with other data collection types, MCA spectra can be selected from the top bar for each visits. The spectra is the result of AutoPyMCA, and higlights the element and edge associated with each peak.
Managing Visit Data
​Summaries of all data from a visit can be obtained, which may be useful for comparing different crystals in the same project.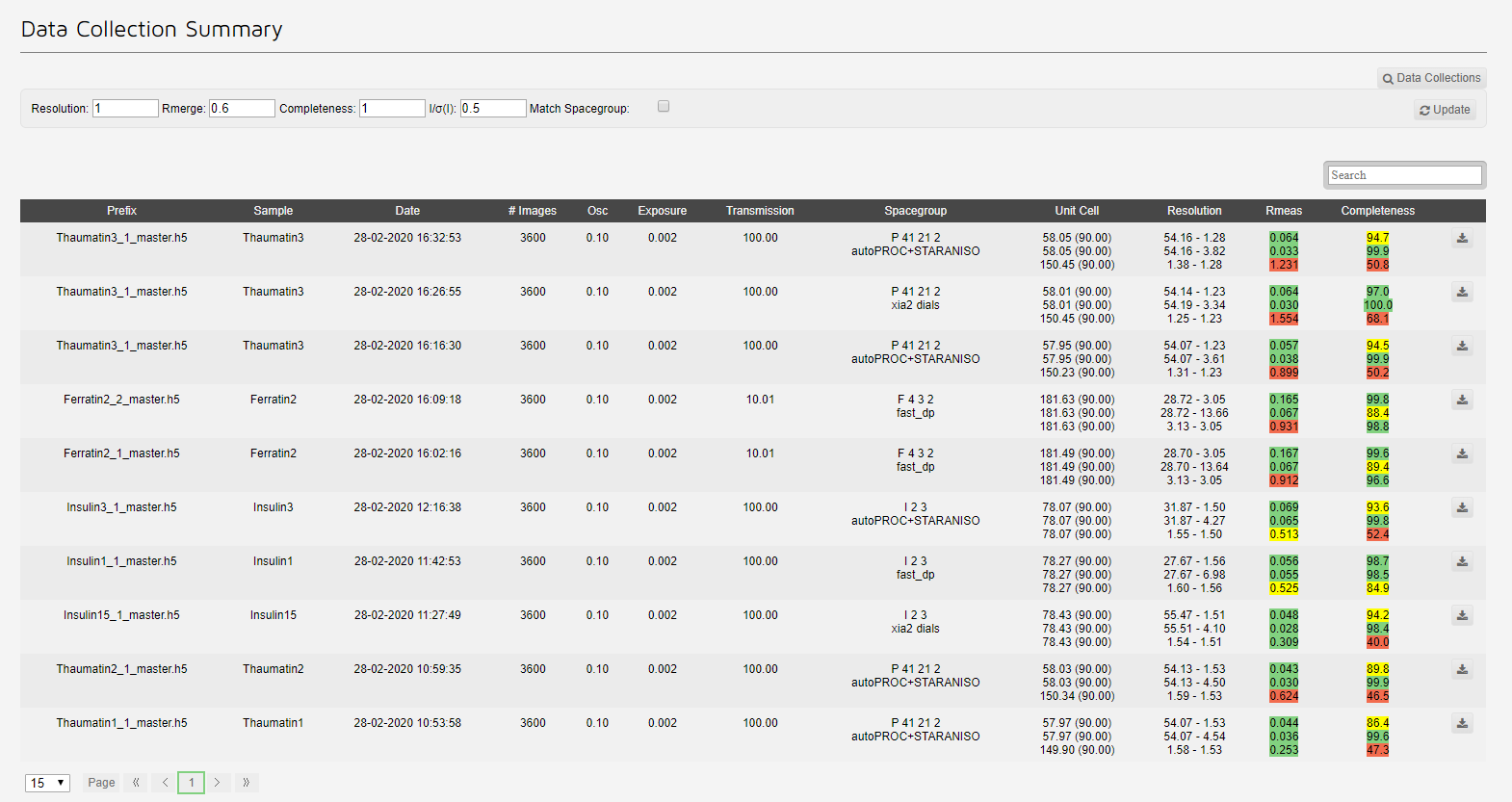 Data from multiple sweeps or crystals
The autoprocessing interface can be used to look at data processed for multiple sweeps of the same crystal, or multiple crystals. These are found under xia2.multiplex, and the n Data Sets button takes to the datasets contributing to that autoprocessed result.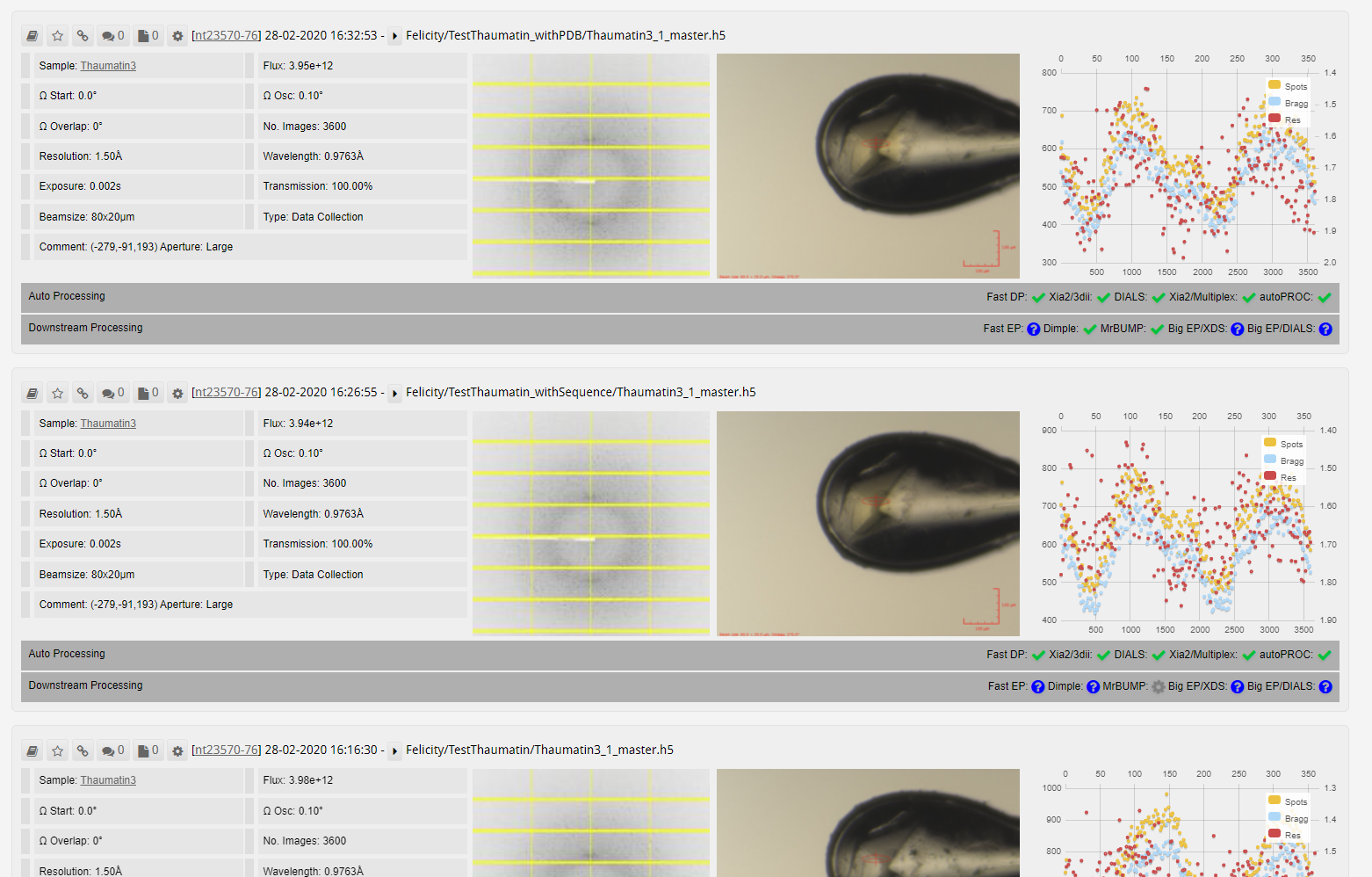 Robot sample loading
Each sample load is given a summary, It details the sample, images of the sample environment and the loop.

Data quality plots
Each autoprocessing routine can be compared using plots of resolution versus paramets such as CC 1/2, number of observations etc. Plots of these parameters can be reached using the plots button in each autoprocessing overview:

This bring up a plotiing interface. All parameters are plotted with resolution on the x-axis (currently this is not labelled).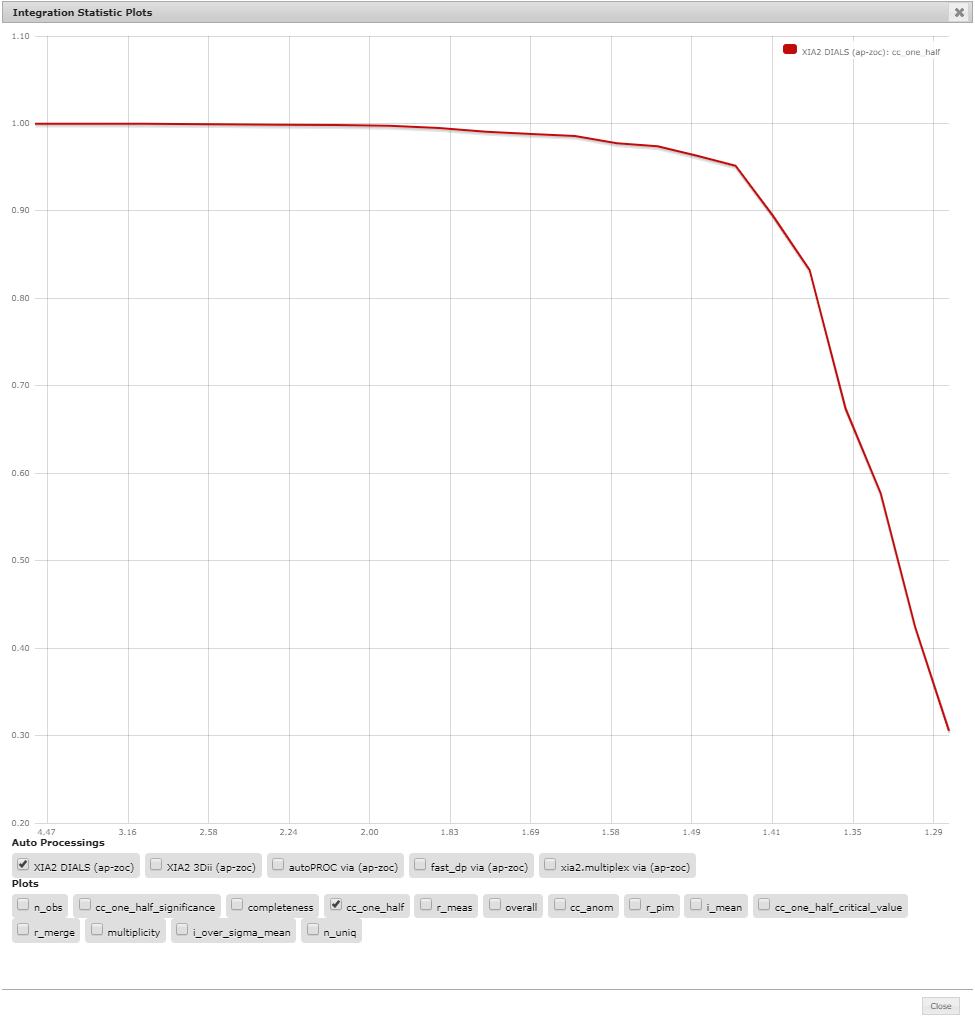 Multiple programs can be compared, including autoprocessing run on multiple crystals or multiple sweeps: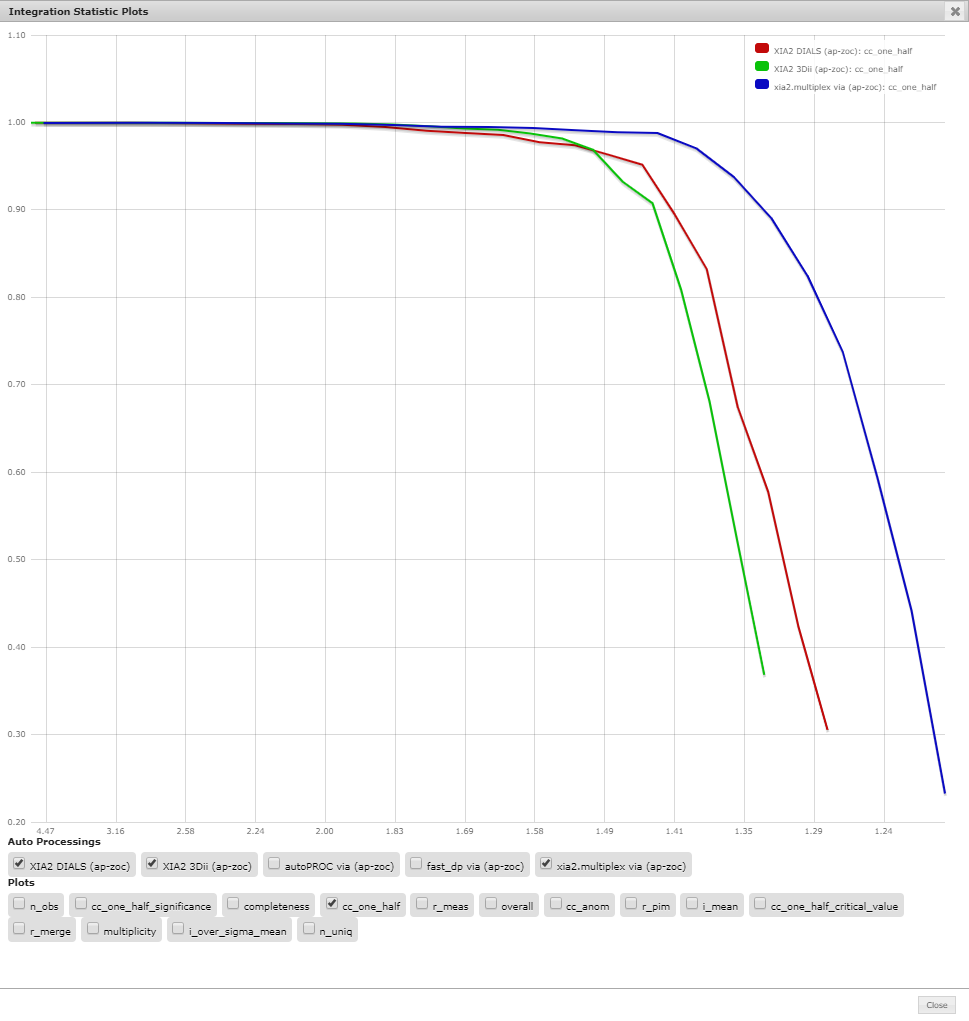 Or by introducing two parameters with different scales, multiple y scales are shown: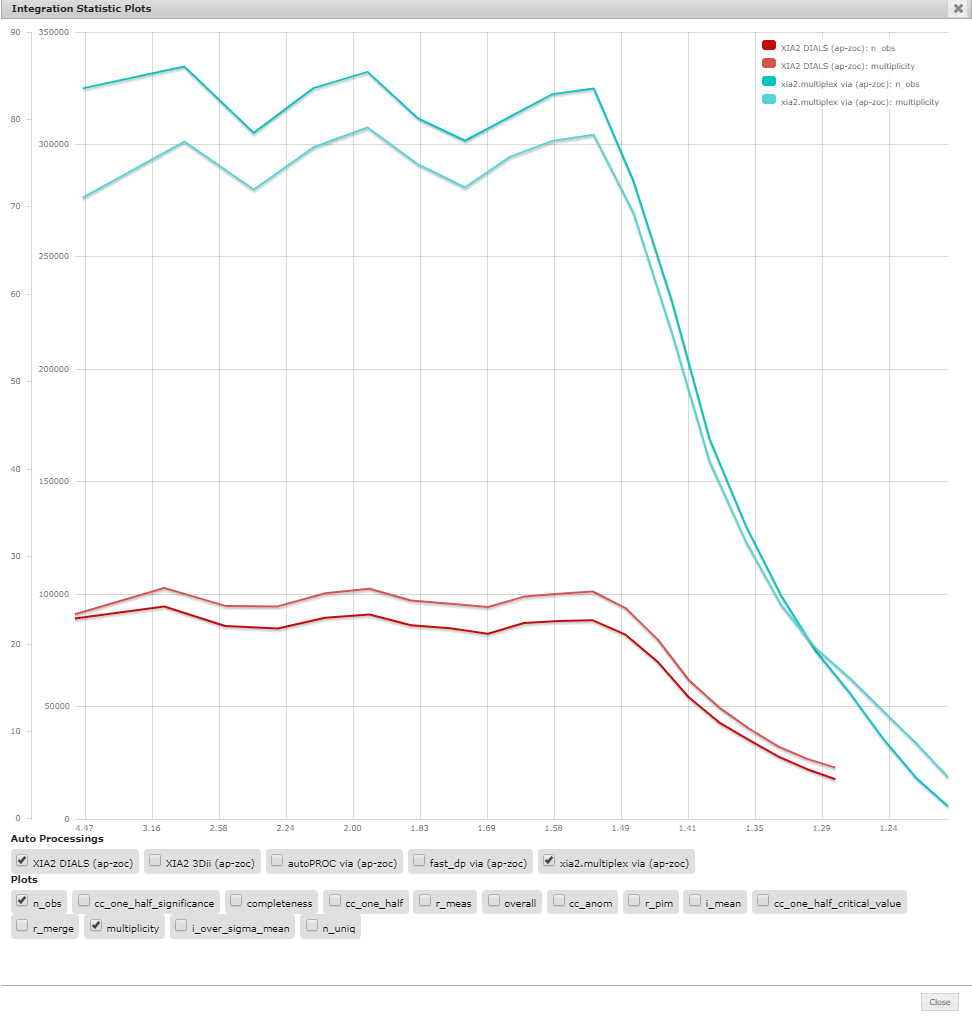 Permalinks
For easier discussion of specific datasets within your group, the permalink can take you to a specific dataset. It is reached by clicking the chain like link on a dataset/ grid scan/ edge scan.