Synchrotron Services for Industrial Scientists
Welcome to the Industrial Liaison Office. We are a group of specialist scientists with a diverse range of expertise, all dedicated to supporting scientists and researchers from a variety of industries access the facilities here at Diamond. The team has an assorted range of backgrounds and each member is a specialist in a different technique. We are therefore able to provide a multi-disciplinary approach to solving research and development problems.
To find out more about how we can help with your project, please select from the following options:
Alternatively you can search by the technique you are interested in, the industry sector you are from or simply find out more about the service we can offer by clicking one of the links below.
The Problem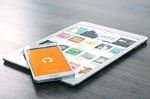 Transparent conducting films are an important component of modern life, providing optically transparent and electrically conductive material for a wide range of devices, such as smart phones, touchscreens and solar panels. The field's most widely used material is tin-doped In2O3 (ITO), accounting for 60% of both global indium use and the transparent conductor market. However, indium is expensive, so there is strong demand for a cheaper alternative or a way to use less indium.
Read more...
The Problem
In March 2011 a major earthquake hit Japan's East coast. Although the six nuclear reactors at the Fukushima Daiichi Nuclear Power Plant (FDNPP) were robust enough to survive the seismic effects, the subsequent 15 metre tsunami had devastating effects, causing a power failure and loss of core cooling. Rising heat within the reactor cores caused the fuel rods to overheat and partially melt down, and radioactive material was released into the surrounding area.
Read more...
The Problem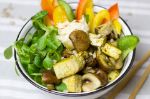 The diet in Thailand has traditionally consisted of vegetables, pork, chicken and fish, and many Thais are avid meat lovers. Recently, however, there has been a move towards healthier alternatives to meat, providing a challenge for the food industry to maintain the desired flavour and experience of eating meat, whilst turning to more plant-based sources.
Read more...