Diamond Light Source: Suspension of Operations except for COVID-19 work
Given the rapid spread of the COVID-19 virus Diamond Light Source has decided to suspend user operations from our facilities until 30th September 2020.
Access is restricted to fully remote experiments only. For the foreseeable future, we will continue to operate Diamond, satisfying priority access for COVID-19 related work (see below for details). We are however also looking to gradually and safely include remote academic and industrial user access on other projects but keeping on-site activity and personnel to a safe minimum.
Please see here for further information.
In the coming weeks, we will be investigating how we can increase the level of user operations in a safe way.
If your experiment was cancelled in AP27 (April – September 2020 incl.) the instrument team are getting in touch with users whose experiments may be feasible, to discuss what might be considered possible under the evolving new operational mode. However we are unlikely to be in a position to support all experiments at this stage, even if they are individually feasible.
This means that the AP28 call for proposals has been postponed.
We are unable to issue a new deadline at this stage, but any proposals already submitted will be held until the call is released.
Diamond is still accepting rapid proposals for COVID-19 related research – see below for details.
Rapid Access Call for Proposals: SARS-CoV-2
Diamond would like to ensure that it is doing everything possible to support researchers in their efforts to discover more about the COVID-19 virus and bring us closer to an effective vaccine or treatment.
With this in mind, we are offering priority rapid access for groups who require instrument time for projects directly related to SARS-CoV-2 viral proteins. Based on the number and nature of requests for priority rapid access, Diamond will make every effort to satisfy research priorities.
Submit a proposal for COVID-19 related research using the rapid access form here.
Or contact the team here: COVID19ACCESS@diamond.ac.uk
UK national information relating to COVID-19
Diamond is aligning its approach to this outbreak with PHE Advice (Public Health England's advisory website) and UK Gov. Travel Advice - These pages are updated regularly and you are advised to check the latest UK government statements through these sites.
If you believe you are at increased risk for any other reason, please see: https://111.nhs.uk/) to discuss personal risk and then adhere to their advice.
Welcome to the User Office
The User Office Team at Diamond are committed to ensuring that your Diamond access runs as smoothly as possible.
In these pages you can find our more about how to make a application to diamond and the services we offer to ensure your time at Diamond is worry free, leaving you to focus on solving your research problem. Please do browse through our pages regularly to ensure that you are aware of Diamond policies and any changes that arise over time.
BREXIT ARRANGEMENTS FOR USERS
Users coming to Diamond to undertake experiments in the future are advised to consult the formal govenment website for the latest updated information on what is required. Please click here for more information.
Diamond's Values
Diamond seeks to foster a culture of working that is reflected in five values (Respect, Excellence, Collaboration, Integrity and Innovation). These values help everyone who comes here to work or use Diamond's facilities to have a common framework of understanding how we relate to each other and what we aspire to.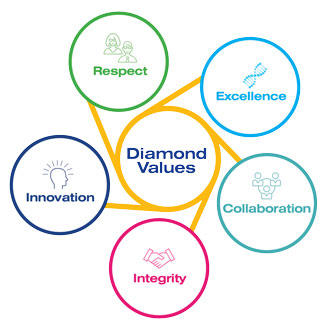 This benefits everyone:
• Everyone is valued, trusted and respected regardless of their gender, location, age, ethnicity, beliefs, role, grade, religion or other personal attributes - treated with respect
• Diamond will be a great place to work
• Clarity on how to behave well and what you can expect from others
• Identify and plan development to meet the challenges of your current role and future roles