NEW: Virtually Explore Diamond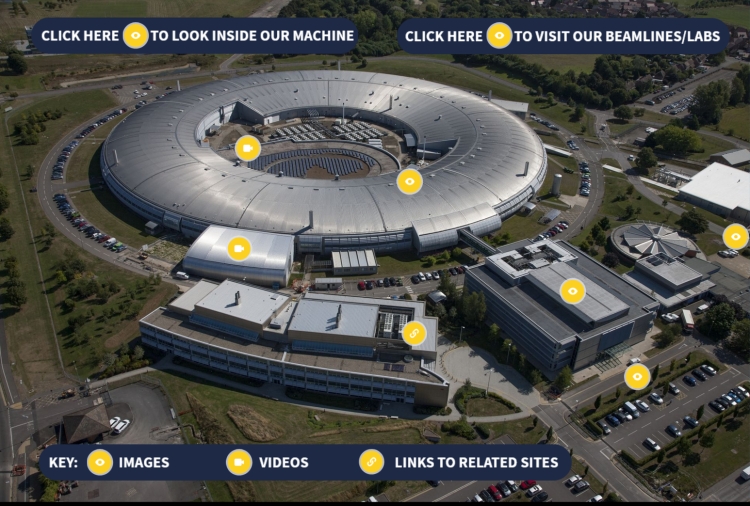 Diamond has produced an interactive image/map full of media content; videos, images, 360 degree photos and more so that you can explore our site from your own device. To find out more about Diamond and visit our machine and beamlines for yourself please click here
Virtually Visit Us
To enable you to have a look inside Diamond no matter where you are located, we have produced a virtual tour that we believe will give you a flavour of what a visit would be like.
What is Diamond
Diamond is the UK's national synchrotron science facility. It's shaped like a huge ring, and is a bit like a giant microscope. Diamond speeds up electrons to near light speeds, producing a light 10 billion times brighter than the sun. These bright beams are then directed off into laboratories known as 'beamlines'; here scientists use the light to study everything from viruses and vaccines to fossils and jet engines.
On this page you can explore how Diamond works, find videos and simulations to explain our science, how you can come and visit us and even links to how you can come and work with our amazing team.
How Diamond Works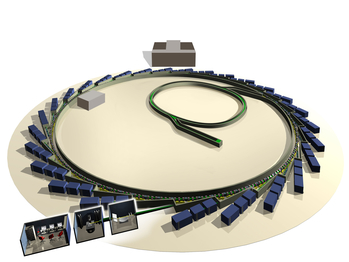 Click here to find out more about how Diamond works
Latest News and Features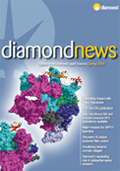 Click here for the latest news and features from Diamond
Digital Learning Resources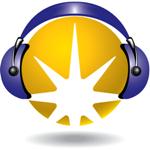 Click here to explore resources such as animations, webinars and videos
Find Out More About How To Get Involved
You can engage with Diamond in a range of ways, to find out more about; schools, universities, how to visit us and careers at Diamond please select the option below.
Schools and Colleges
University and Further Education
Public Visits to Diamond
Jobs and Careers at Diamond
Contact Information
If you wish to keep up to date with the latest happenings and activities at Diamond then please subscribe to our public mailing list at the top of this page. If you have any comments, feedback or suggestions about our engagement activities then please don't hesitate to contact us, we'd love to hear from you.
Public Engagement Team
Telephone: +44 (0) 1235 778727
E-mail: publicengagement@diamond.ac.uk