A world-changing career at Diamond
Be a part of the world-changing science at the UK's National Synchrotron. Diamond Light Source is one of the most advanced scientific facilities in the world. It houses our synchrotron light source, a giant microscope that can produce beams of light 10 billion times brighter than the sun, to probe the structure and composition of matter.
From viruses and vaccines, to alternative energy solutions and nanotechnology, it underpins research and innovation for more than 8000 scientists, engineers, researchers, and more. Your career at Diamond is key to maintaining our facility's world-class, and in many areas, world-leading standing, delivering impactful science that can change the world.
Browse our latest vacancies, and learn more about how you can be a part of our state-of-the-art facilities, with a great range of benefits, too, including:
Company Benefits
Learning & Development : we support relevant personal and professional courses and other forms of learning to enhance your skills and development.
Annual Leave: we offer a generous leave allowance of 25 days along with a further 13 days statutory and company holidays.
Pension: we offer a choice of an industry-leading public sector pension or partnership pension. This includes employer contributions and life cover.
Work Life Balance: we offer flexi-time and Flexible Working Hours where appropriate.
Remuneration: we offer competitive rates of pay with the possibility of pay progression for exceptional contributory performance in approved cases.
Membership of Professional Bodies: we provide financial contribution towards membership of one professional body.
Cycle to Work Scheme: employees are able to participate in this government approved scheme which enables you to buy a new bike tax free.
Relocation: in approved cases we offer financial assistance for an individual to move house and relocate in close vicinity to where we are based.
Employee Assistance Programme: we fund a support programme for all our employees to seek confidential advice on a wide range of matters.
VDU use: we contribute towards the costs of eye examinations and glasses/lenses for VDU users.
Discounts & other lifestyle benefits: we offer a scheme that provides discounts, deals and other lifestyle benefits for you and your family. Diamond have also negotiated reduced rates for our employees on a range of products. Currently these include a mobile phone provider, children's summer holiday camps provider and a limited range of IT products.
See scientists and engineers talking about what fascinates them about science, what sparked their curiosity, how they were inspired to follow their chosen career path and why the Diamond synchrotron is important to them.
Our Values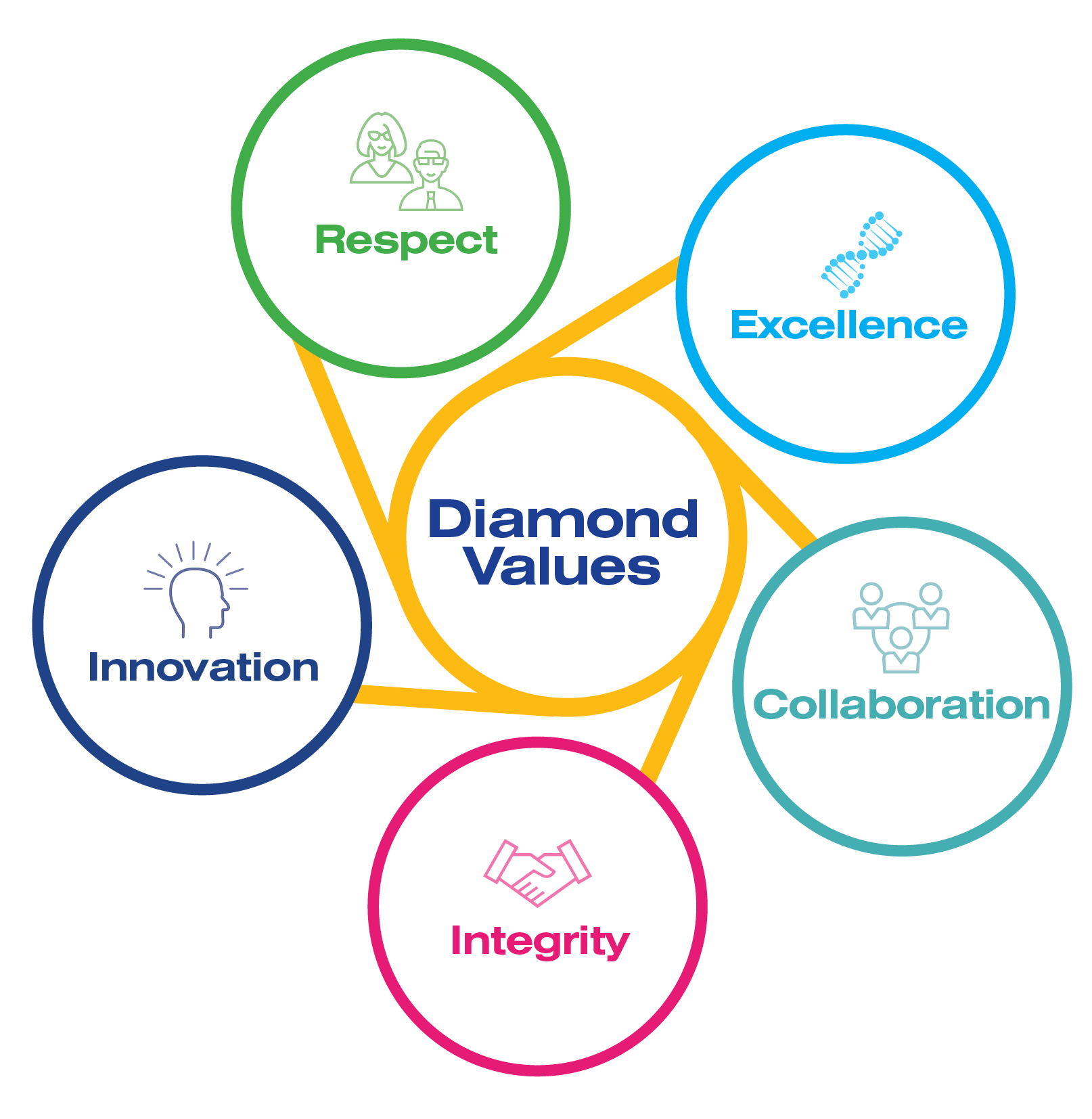 Diamond's aspiration is to be a fulfilling and enjoyable place to work; where all staff regardless of grade, role, location, race, religion, age and other personal attributes feel valued and recognised for their individual contribution in helping us to achieve our objectives and priorities; and become an employer of choice and a great place to work. Our values help us to do this.