Peter Marples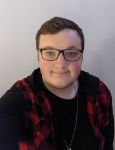 Peter is a Research Technician working in the XChem facility and the ASAP team.
Email: peter.marples@diamond.ac.uk

Tel: 01235 778020
Key Research Area
Fragment-based drug discovery.
Recent Publications
Biography
Peter joined the XChem team in October 2022 as a research technician for XChem after finishing a MBio in Biochemistry from the University of Lincoln. His Master's project was an investigation into the interaction between the parkinsonian DJ-1 protein and the tumour suppressant TP53 as a potential factor in the development of Parkinson's disease.