Blake Balcomb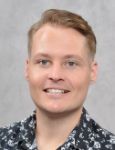 Blake is a PDRA working on the ASAP project.
Key Research Area
Fragment-based drug discovery.
Recent Publications
Biography
Blake joined the team as PDRA for Antiviral XChem following several years in Professor Erick Strauss's research group at Stellenbosch University, South Africa. In the Strauss group, he completed his PhD in Biochemistry (2019) followed by a post-doctoral fellowship funded under the auspices of the GCRF-START and GC Africa programme. His research projects focused on novel bacterial flavoproteins that are involved in resisting the hosts' neutrophil-derived chemical attacks. His post-doctoral research was aimed at developing inhibitors against a novel bacterial target for use as host defense adjuvants. The drug discovery strategy employed a high throughput method utilizing parallel synthesis combined with X-ray structure-accelerated synthesis-aligned lead discovery (XChem). Prior to Stellenbosch, Blake completed an M.A. in Biochemistry and Biophysics on a Fulbright Scholarship at The University of Kansas with Professor Audrey Lamb. Blake has interests in science education, enzymology, drug discovery, structural biology and biophysics.