Charlie Tomlinson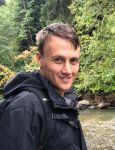 Charlie is a Beamline Scientist working in the XChem facility and its academic user program.
Email: charlie.tomlinson@diamond.ac.uk

Tel: 01235 394171
Key Research Area
Fragment-based drug discovery.
Recent Publications
Biography
Charlie joined the XChem team in November 2021 after a PhD and PDRA postition with Ehmke Pohl at the University of Durham, where he also completed a MSci in Natural Sciences (Chemistry and Biology). His PhD project was focused on uncovering the interactions between human retinoid receptor proteins and synthetic retinoid molecules, and leveraging that information in the design of a high-throughput fluorescence binding assay for studying protein-ligand interactions.