Dry Shipping Puck Holders
How to ship your unipucks?
For full remote access we will accept only samples in unipucks. If you do not have unipucks you can borrow some here.
Currently for pucks transportation in dry shipper 3 different choces are available:
1) The puck shelved shipping cane (shown below) is essential for Unattended Data Collection, and strongly preferred for all visits. Make sure before using it that all the screws are properly secure, nothing is loose and you use the locking rod.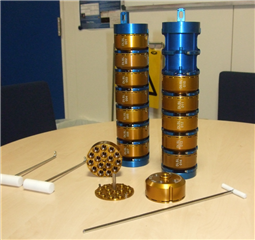 2) Our second choice is the puck shipping canister (please load pucks in the order you would like them used - particularly if a shipment is for multiple visits).
3) We highly discourage the use of the narrow canister as shown below. If you use the narrow canister you can expect extra time required for loading your samples for remote access.