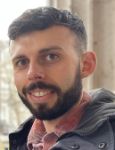 Luc is a PhD student jointly supervised by Prof. David Heery (University of Nottingham) and Dr Ralf Flaig. His PhD project is focusing on structural and functional studies of histone lysine acetyltransferases, a class of enzymes that are central players in genome regulation.
Luc completed a Molecular Biology integrated Master's degree with First Class honours at the University of Sheffield in 2020. Here, he first developed a taste for structural biology when completing a 3rd year project using NMR to study the interaction of Dihydrofolate reductase and an inhibitor.
Beyond structural biology, Luc has a keen interest for gene regulation. In his Masters year, he worked on developing nascent RNA sequencing with Oxford Nanopore Technology - receiving the Mike Fowler medal for creative science. Luc has also studied transcriptional regulation by long non-coding RNAs during a summer placement at the Francis Crick Institute.
When not in the lab, Luc enjoys watching/playing football, reading and going for long walks.
Email: luc.costello-heaven@diamond.ac.uk