Jason Van Rooyen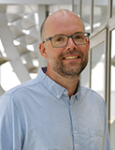 Principal Industrial Liaison Scientist, Cryo-Electron Microscopy
Email: industry@diamond.ac.uk

Tel: +44 (0)1235 778029
Biography
Jason has recently joined the Industrial Liaison Office (May 2017) as a cryo-electron microscopy scientist where he will be supporting industry clients seeking advanced imaging capabilities of eBIC. Recent developments in detectors and the latest generation of microscopes have brought about a "resolution revolution" and consequent renaissance in the field of EM. Previously unattainable resolutions are now routinely possible and researchers from both academia and industry are clamoring to access the technology.
He has experience in both X-ray crystallography and EM having utilised both techniques first in his PhD studies at the University of Cape Town to solve the structure of a large novel metabolic enzyme from Bacteroides fragilis. He followed this up with a post-doctorate at the EMBL in Grenoble where he again applied these methods to studying native complexes and proteins with potential as drug targets against the pathogen Toxoplasma gondii.
Jason aims to leverage the state-of-the-art capabilities here at eBIC to provide novel and previously unattainable structural insights for the drug-discovery and biotech industries.