Ailsa Powell
Fragment screening
Macromolecular crystallography
Ailsa Powell is an Industrial Liaison Scientist responsible for supporting industrial clients using the XChem fragment screening facility here at Diamond.
With a background in macromolecular crystallography and protein biochemistry, she joined the Industrial Liaison Office in 2018 after working in the biotech sector, developing biological crystallographic techniques.
Throughout her career, her main scientific focus has been using macromolecular crystallography for understanding drug targets as a foundation for drug development, and has worked with both potential drug targets in the field of antimicrobials and antimalarials and has also investigated the structural basis of antibiotic resistance.
Prior to working in biotech, Ailsa worked as a postdoctoral scientist at the University of Oxford and the Medical University of South Carolina and after completing her PhD at University of Bristol.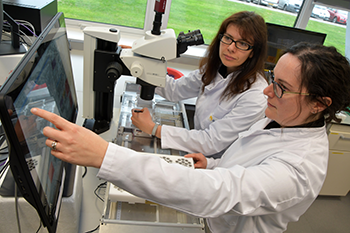 Find out more about Ailsa by reading our profile article.