Arriving at Diamond

-
When you arrive on the Harwell Campus there are two places most people need to identify:
Main Gate
To find the Main Gate leave the bus station facing Diamond and turn right. Cross the road and continue for approximately 250m. Turn left and you will see the main reception building. Most user access cards are prepared for collection at Main Gate and this willl be specified on the details confirming your session sent out by the User Office.
See location 2 on this map.
Ridgeway House
To find Main Gate leave the bus station facing Diamond and turn right, continue for approximately 300m and you will find Ridgeway House on your left.
See location 3 on this map.
Instruments
If you arrive at the arranged time, your local contact will be at your instrument to welcome you for your experiment.
Once you have your access card you will need to find your instrument. The beamlines are numbered in a clockwise direction. The link bridge between Diamond House and the Synchrotron is in zone 1, upstairs from I19.
I14, eBIC and ePSIC are housed in an external building which is immediately behind the R22 restaurant when coming from Diamond House and the I13 instruments are in a building behind the I14 external building.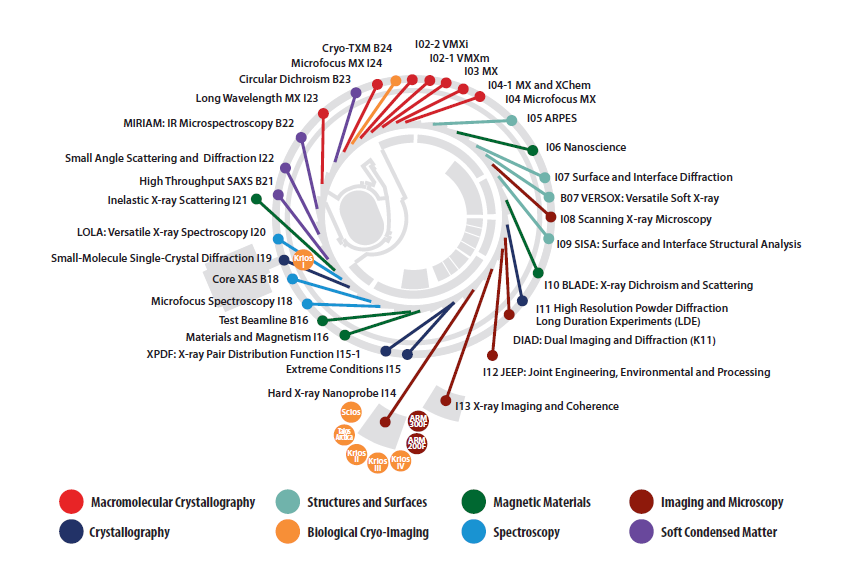 Emergency Procedures

-

+
Fire Alarm
In case of a fire the alarm will sound followed by a recorded message which will also inform you of a total evacuation. Follow these instructions and evacuate the building by the nearest exit. Please do not use the lifts or the link bridge between Diamond House and the Synchrotron.
If you are in the synchrotron building go straight to muster point outside at ground level under the link bridge between Diamond House and the Synchrotron and swipe your cypher tag at the master card reader. If you are in Diamond House leave via the main entrance and assemble in the car park at the front of the building.
There are no building wardens operating in the synchrotron building.
If you discover a fire:
Sound the alarm by activating the nearest break glass
Leave the building by the nearest exit
Do not use the lifts.
You may use a fire extinguisher if you are trained to do so and only if it is safe to do so. Do not attempt to fight a fire if you are not competent to do so.
Notify the Control Room of your actions on ext. 8899.
Routine fire alarm testing takes place between 11:30am and 12noon on a Tuesday and will be announced on the overhead tannoy.
If you might require extra assistance to evacuate the building in case of emergency, please contact the
User Office
in advance of your session to ensure a plan is in place for your session.
First Aiders
Diamond has first aiders on site at all times during user operations. Please see the list displayed in each beamline. In case of emergency please contact the Experimental Hall Coordinators on ext. 8787.
Accidents and Near-Misses
Diamond reviews all accidents and near-misses regularly to improve our processes. Please ask your Local Contact or an EHC (ext. 8787) for an Incident Report Form which should be completed and given to the Local Contact or EHC who will pass it to the Diamond SHE group.
Lone Working

-

+
While Diamond discourage lone working during your visit, it is sometimes necessary. Please notify the Diamond Experimental Hall Coordinators (EHC) on ext. 8787 as they make regular checks on anyone who is working alone.
Between 6pm and 8am, please notify the EHC so that they are aware you have finished successfully and left site safely.
Local Amenities

-

+
Diamond is sited on the Harwell Research and Innovation Campues and there are several local amenities that may be of use during your stay.
ATM: There is a 24 hour, no fee cash machine in the R22 coffee lounge.
There is a small parade of shops on Harwell Campus (location 10 on
this map
), which includes the following:
Store/Post Office (McColls): Tel 01235 834391. Open from 0630-1800hrs Monday to Friday and 0700-1200hrs on Saturday and Sunday.
Bloomers Sandwich Bar: Tel 01235 833885. Open from 0800-1500hrs Monday to Friday.
Hairdressing salon (Atomic Hair): Tel 01235 832062. Open from 0900-1700hrs Monday, Tuesday, Thursday and Friday, 0900-2100hrs on Wednesday and 0800-1200hrs on Saturday.
Aquarius Holistic Therapy Centre: Tel 01235 821259. Health practitioners provide a wide range of therapies for mind, body and spirit.
Harwell Dental Practice: Tel 01235 831889. Open from 0830-1300hrs and 1400-1700hrs Monday to Thursday and 0830-1400hrs on Friday.
Food and Drink

-

+
Breakfast is provided with all accommodation bookings made by Diamond.
Tea, coffee, drinking water, milk and sugar are available in all the Diamond kitchens with no charge. Kitchens are equipped with boiling water, fridges and microwaves for your use.
Vending machines are provided in the kitchens in zones 3, 7 and 11.
While the Diamond machine is running, meals can be obtained from the:
R22 Canteen (Mon-Fri 7:30am to 9:30am, 11:45am to 1:45pm and 6pm to 8pm, Sat-Sun 12noon to 1:30pm and 6pm to 8pm)
R1 Coffee Lounge (Mon-Fri, 8:30am to 4pm)
Electron Cafe (Mon-Fri, 8:30am to 4pm)
Please note, while the Diamond machine is not running R22 closes at 4pm on Friday and reopens at 7:30am on Monday.
There are several rest rooms located near the kitchens to provide a more relaxed environment.
Leaving Diamond

-

+
Instrument
Please leave the instrument and any labs you have used clean and tidy. Diamond are not able to dispose of your samples so please repack everything your brought with you and take it away from site.
Accommodation
Please ensure you check out from your accommodation before the check out time. If you are due to pay for your own accomodation please ensure this has been done before you leave - in the case of non-payment we will pass on your contact address so that payment can be sought.
Access Cards
Please return your access card and lanyard to the Diamond User Office. In the case that the office is closed there is a postbox loacted on the wall outside the User Office. If you forget, please post your card in the box at the security gate on the way off campus.