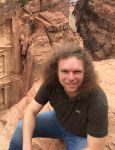 Armin Wagner is the I23 Principal Beamline Scientist. He joined Diamond in 2005 from the Swiss Light Source where he had worked as a Post-Doc at the MX beamlines.
He is an expert for X-ray beamlines at synchrotron light sources and has been responsible for the design, building, commissioning and operation of the first in-vacuum MX beamline for long-wavelength crystallography. This beamline covers a wavelength range beyond any other instrument for MX worldwide to offer unique and novel scientific opportunities.
In addition he has made significant contributions to sample delivery techniques for both synchrotron and XFEL experiments.
Email: armin.wagner@diamond.ac.uk

Tel: +44 (0) 1235 778560