User guide to MX Experiments
Register with Diamond

-
Register with Diamond
Existing users
Your current Federal ID and password should allow access to the User Administration System (UAS).
New user registration
The first stage of the process is to ensure that everyone who needs to access Diamond is registered on the User Administration System (UAS). Each person only needs to register once. You will receive your log in details which will consist of your email address and a password.
Once you are attached to a scheduled session, you will be given a FedID and a new password, this will supersedes the email login you were initially given.
Please make a note of your FedID and password – these are required for accessing your data.
Contact the Diamond User Office if you need assistance.
.
Safety Test

-

+
Safety Test
Taking the safety test
Using your FedID and password, you can login to the User Administration System (UAS).
On the home page there is a large box called Diamond Safety Test. Please click on the button to watch the safety video and then follow the links to complete the online test.
This is a requirement for access to Diamond.
Register Investigators

-

+
Register Investigators
If you are the named Principal Investigator (PI) or Alternate Contact (AC), it's your job to ensure that all of the paperwork is completed and that everyone has passed their safety tests.

In the UAS, click 'Sessions' on the top toolbar to see any experiments that you are associated with. You should have received an e-mail from the User Office / UAS giving details of your experiment number, date, time and the name of your local contact.
Click on the session for which you want to upload information.
Click 'Investigators' to add members to your team using the search function. You can only search for people who have already been registered on the UAS.
When your team is complete, click 'Submit Investigators'.
NB. You can only submit investigators successfully when all of the team have passed their safety tests.
Sample registration and risk assessment

-

+
Sample registration and risk assessment
Safety Requirements
An experimental Risk assessment (ERA) should be completed using our User Administration System (UAS)
Each experiment must have an associated Experimental Risk Assessment (ERA). The ERA should give details of all samples (or groups of similar samples), any processes required to manipulate the samples and the relevant experimental method. If lab access is required, this is also part of the ERA.
You can download instructions for completing a risk assessment.
It is the responsibility of the PI or AC to ensure that the ERA is completed fully and accurately and it must be completed at least one week prior to the experiment and well in advance of any samples arriving at Diamond.
The list of biological samples within the ERA does not need to feature every single crystal as similar samples can be considered as one type. For example if you have a protein (e.g.kinase) and you are going to send 20 crystals of this protein, then you can have one sample within the ERA which states the name of the protein and organism in which the protein had been produced etc. If you cocrystalize/soak the crystals in a range of ligands, the same ERA should cover these samples as well. If you have mutants or different source organism or different protein project, then a new "Sample" is needed within the ERA for each of them.
Please note that an ERA has to be submitted for every experiment at Diamond, even if you bring the same type of samples more than once. Once validated by the SHE group, the sample is associated with the proposal rather than the individual visit, so if you come for an additional experiment at a later date, you can add pre-approved samples quickly.
You will be notified via e-mail once the ERA has been graded by Diamond's Safety, Health and Environment (SHE) team. For any non-standard requests or complex safety requirements, please contact mx-usersupport@diamond.ac.uk, or specify in you application form.
If you need to edit your ERA after it has been submitted, you will need to select 'Withdraw & Edit Session ERA' first, make any necessary changes and then re-submit it.
Sample Preparation

-

+
Sample Preparation
Please prepare your samples in SPINE standard pins and Unipucks for cryo experiments or the correct type of SBS plate for in situ experiments to ensure compatibility with the sample changers at the MX beamlines.
If you do not have access to Unipucks, Diamond has loan puck sets available to lend you. Please contact mx-usersupport@diamond.ac.uk as soon as possible if this is the case, as these may be in high demand for new users.
Full technical details and drawings are available to assist you.
Appropriate pins are:
· Hampton CrystalCap HT SPINE pin with 22mm fixed sample holder length
· Molecular Dimensions CryoCaps
· MiTeGen B5 and MiTeGen B5-R Goniometer bases.
Please note the there are a number of other pin types available from all three suppliers. They may look like SPINE pins but they are not and cannot be used on Diamond beamlines.
Shipping Samples

-

+
Shipping Samples
ISPyB
We use Information System for Protein Crystallography Beamline (ISPyB) to manage sample information, experimental data and dewar shipments. You can access ISPyB using the following link: https://ispyb.diamond.ac.uk/
Sample Shipments
All samples shipments are created in ISPyB (full tutorial here)
Dewar facility code (barcode stickers DLS-IN-xxxx) must be attached to the dewars and dewars registered in ISPyB.
Once a shipment has been created in ISPyB, shipment labels must be printed and attached to your dewar prior to shipment. Please stick Label 1 onto your shipping box and Label 2 onto the side of your IATA approved dry shipping dewar. Don't forget to include Label 3 within your dry shipper box for the return shipment.
Shipments booked via ISPYB can be shipped using DHL
If you are shipping from overseas, we recommend that you arrange the shipment with your courier in such way that the samples arrive to Diamond at least 3 working days before the scheduled experiment to give a margin for any potential delays at Customs. We aim to mantain our stores open Monday to Thursday 8am - 4pm and Friday 8am - 3pm, however this may not possible (Updated 23/03/20). Shipments made using DHL via ISPYB can be tracked by Diamond Staff. If you need to chip in an alternative manner, please keep staff aware of any tracking information.
Shipment lead times
DHL are currently (Updated 23/03/20) reporting normal shipping times. However we expect users shipping samples related to COVID-19 to aim for there samples to be at site at least 3 working days prior to any experiment, to allow for lower staff levels at Diamond.
Remote access

-

+
Remote access
Access to the cluster computers can be made prior and after beamtime for data processing. This is done via NoMachine, following these instructions.
Please:
Update your nomachine client
Test your connection before beamtime (this will be to the cluster not the specific beamline)
Add all required invetigators to a visit so they can all access visit.
Check guidance on using red hat 7, as some functionality has changed
Connection to the beamline
The connection is as without beamtime, but a specific workstation will be availiable: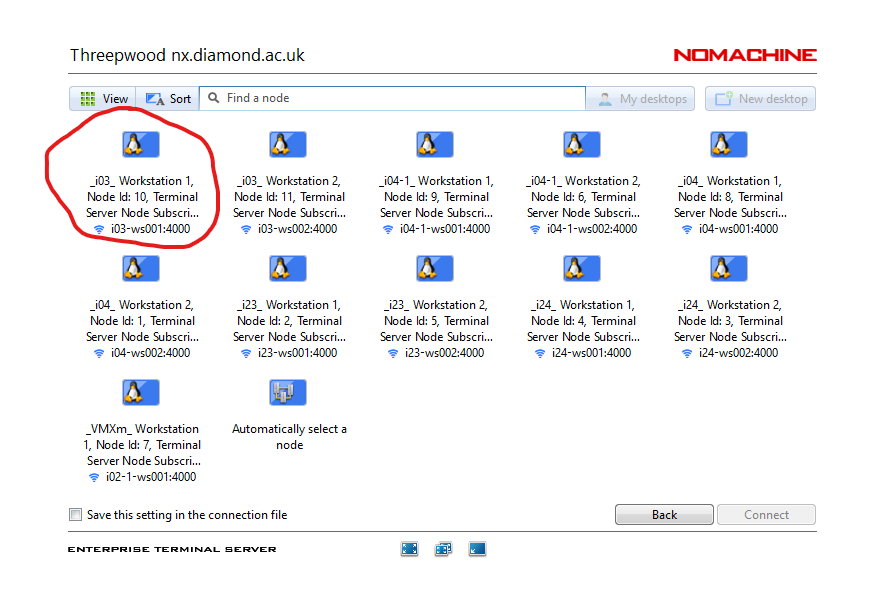 Please connect to the beamline workstation.
Your Local contact can provide remote support should this not work on the day.
Data collection

-

+
Data collection
Remote data collection is done via GDA and can be monitored using ISPYB. We recommend 2 screens if possible. With one connected to the beamline, ideally 1900*1200px. The other screen can be used to monitor the data generated from the experiment on ISPYB.
Full details:
Unattended Data Collection
Methods to efficently collect high quality data have been developed. Some samples may use this unattended data collection mode, you will be told if you are using this. Full Details.
Beamlines

-

+
Beamlines
The aim is to run 4 operational beamlines:
Beamtime will be moved between operational beamlines to mantain the minimal risk to staff and to allow equipment to be best utilised and remain operational under minimal mantainance.
Any requests for specific equipment or techniques should be made at time of application, or as soon as known to your local contact or principal beamline scientist.
Data retrieval

-

+