Currently Available User Modes
Standard diffractometer experiments

-
EH1 Diffractometer
For standard experiments the diffractometer in EH1 can be set up in one of the following geometries:
Sample surface-normal horizontal
Sample surface-normal vertical (with or without the "alpha-table")
To avoid confusion each diffractometer axis has a unique name as shown below. When in use thes axes are aliased to more appropriate names for the geometry of the experiment.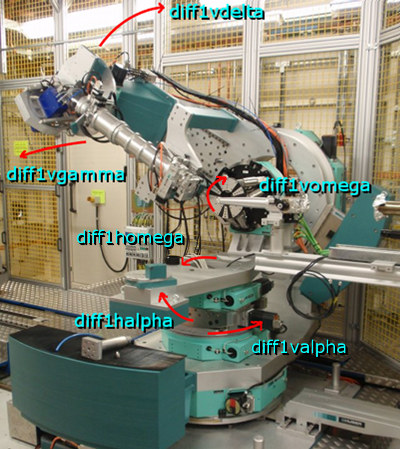 In both geometries the sample is normally mounted on a hexapod (PI-Micos) to allow independant alignment of the sample with 6 dgrees of freedom. The hexapod has its own frame of reference relative to the base with the z-axis its "height":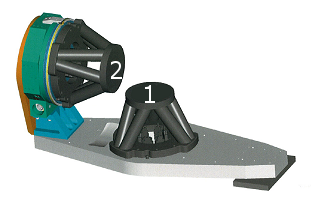 The range of motion of each axis is dependent on the positions of the other axes. The maximum range is given below.
| | |
| --- | --- |
| Translational motion | z: ± 15mm x, y: ± 10mm |
| Rotational motion | ± 10° about each axis |
| Load capacity | 50Kg (position 1) or 30Kg (position 2) |
Liquid surfaces

-

+
DCD Mode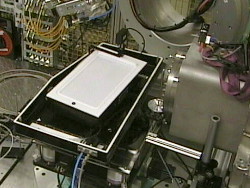 The Double crystal deflector (DCD) allows reflectivity from liquid surfaces without the need to move the sample. It can easily combine with GISAXS or GIXD for most energies. If required, it is possible to approach the interface from above or below.
You can read a detailed description of the DCD on its dedicated page.
There are several possible modes of operation:
Energy

Standard: 12.5keV

Variable energy is now available Range: 11.2 – 30keV (but please consult beamline staff if required, e.g. for liquid-liquid experiments)

Using P100k

Qz: 0–1 Å-1 (may also go up to 2.5 Å-1 but consult beamline staff if required)

Qxy: Energy and sample environment limited. Typical max for GID at 12.5keV ~ 3Å-1

Approximate time for data collection: 15–20 min for air-water XRR, <5min for GID or GISAXS

Using P2M
Qz: 0–1 Å-1 (Energy and detector distance limited)

Qxy: Energy and detector distance limited. Typical for GISAXS at 12.5keV min ~ 0.01–0.02Å-1, max ~ 0.7Å-1

Approximate time for data collection: 20 min for air-water XRR, <5min for GISAXS

Using both detectors
This is not as straightforward but is possible for some situations.
Anomalous measurements
This is possible for certain experiments but not routine (please consult beamline staff if required)
Post DCD Slits
An upgrade to the DCD is presently in progress. This will allow post-DCD slits to be used that should allow the beam size to be reduced at the expense of overall flux. Contact staff for details
Changing between set-ups particularly the energy is not generally possible during an experiment. Similar experiments are usually scheduled consecutively, minimising the time required for set-up between experiments.
GISAXS

-

+
Use of Pilatus 2M with long camera lengths
Detector positioning system
An independent mounting sytem for the Pilatus 2M area detector
Sample-detector distance variable from 1.5 – 3 metres
The detector can also move both horizontally and vertically covering an angular range from the sample of up to ~20 degrees depending on distance from sample
GISAXS flight tube
Provides an air-free path between the sample and Pilatus 2M detector for GISAXS measurements
Helium-filled
Mica entrance and kapton exit windows
Two internal beamstops, for the direct and reflected beam, which can be moved remotely
Entire tube can easily be swung out of the way to allow the diffractometer arm to be lowered for reflectivity or other measurements, if required
Sample-Detector distance
1.5 – 3m (Not continuous when using flight tube)
Typical Q-range (12.5 keV)

0.010 – 0.5Å-1 (at 3m)

0.025 – 1Å-1 (at 1.5m)

Set-up time
Approximately 1 shift (8hrs)
GIWAXS

-

+
Pilatus 2M mounted on the Diffractometer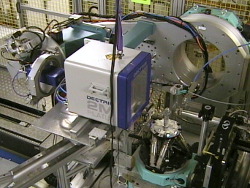 In certain circumstances it is possible to mount the Pilatus 2M on the diffractometer. In this case the detector cannot be moved but can cover a significantly wider Q-range than is possible with the remote detector positioning system. Fast acquisition is possible with the 2M detector, enabling real time in situ GIWAXS measurements.
| | |
| --- | --- |
| Sample-Detector distance | 0.3 – 0.4m |
| Typical Q-range (at 12.5keV) | ~ 0.1 – 3.8Å-1 |
| Set-up time | Approximately 1 shift (8hrs) |
The diffractometer detector arm cannot be used in this set-up.
Ultra-high Vacuum

-

+
Ultra-high Vacuum experiments
There are two options for experiments requiring UHV sample conditions.
Large UHV chamber in EH2
This chamber houses a wide range of UHV surface science, preparation and characterisation equipment including sputter guns and LEED/AES optics. Additionally, a number of ports (CF38) are available for mounting evaporation sources, enabling in-situ growth dynamics to be studied as well as well ordered surface arrangements.
Typical operating conditions:
Base Pressure
~ 1 x 10-10 mbar
Max. Number of sources
3
Sample Temperature Range

High Temperature Manipulator: 300–2300K

With cooling adaptor: 120–600K and with limited sample transfer

Detectors
Pilatus P100K

You can read more about the EH2 UHV system here.
UHV "baby-chamber" in EH1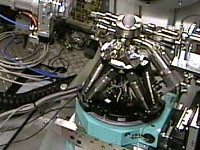 Some studies are best carried out in the small baby chamber in EH1. Samples that have previously been prepared in the Surface and Interface village offline UHV facilities can be transferred under vacuum into this system. Samples can then be exposed to high gas pressures (<1bar) or humid atmospheres. Liquid droplet studies and in situ electrochemistry using this chamber are also in development.
Typical operating conditions:
| | |
| --- | --- |
| Base Pressure | ~ 2 x 10-9 mbar |
| Maximum Pressure | ~1 x 10-4 mbar (turbo pump), 1 bar (unpumped) |
| Sample Temperature Range | Standard Manipulator 300–900K |
| Detectors | Pilatus P100K, Pilatus P2M |