Beamline

-
Beamline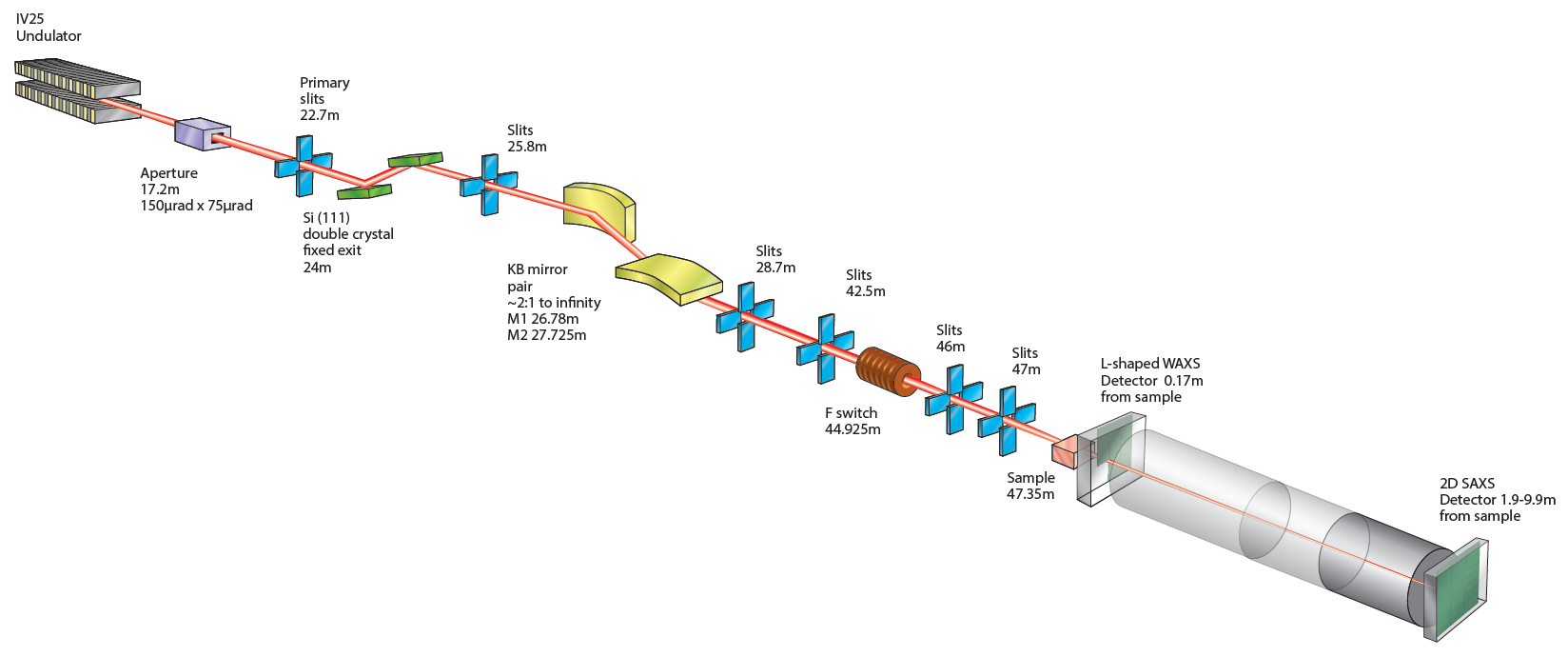 Energy range
6 - 21 keV
Energy resolution (Δ E/E)
1.66 x 10-4 with Si (111)
Energy stability
± 0.125 eV
D-spacing range
1 - 5000 Å (Main Beam) 1-1000Å for microfocus
Photon beamsize at sample
240 (H) x 60 (V) µm, varies with camera length and focus point
With micro-focussing: From 50 x 50 to 10 (H) x 10 (V) µm
Beam divergence at 12 keV
80 (H) x 50 (V) µrad
With micro-focussing: 0.6 x 0.7 mrad
Source

-

+
Source
| | |
| --- | --- |
| Insertion device | In-vacuum U25 undulator |
| Nominal magnet length | 2m |
| Nominal magnet gap | 5-8mm |
| Magnet period | 25mm |
| Aperture | 150 µrad x 75 µrad |
Optics

-

+
Optics
Primary Slits
Double crystal monochromator Si (111)
Kirkpatrick-Baez Mirrors (Bimorph type)
Defining Slits
3 x Secondary Slits
For the Microfocus Option
Secondary Source
Be CRLs in Fswitch
Experimental Hutch

-

+
Experimental Hutch and Sample Volume
This section contains info on the I22 Sample area and the services available to the User in that Area.

In order to accommodate a wide variety of sample environments, including all the I22 sample environments and user supplied sample cells and systems, the experiment area has been designed to be very flexible and can be adapted to suit each new configuration. Please talk to a beamline scientist well in advance of your experiment if you are planning to bring your own sample environment to ensure that it will fit.
The beamline was designed to accommodate a sample environment that fits into a 300mm x 300mm x 300mm box in its standard configuration. We may be able to accommodate sample environments up to a 500mm x 500mm x 500mm box if thay can be designed to avoid a clash with the nosecone.
To minimise the disruption to your beamtime and ensure that your sample environment will work on I22, please consult us when designing your sample environments. Please note that all SAXS beamlines are arranged differently so equipment that was designed to work elsewhere may need to be adapted before use on I22.
The experimental hutch is equipped with several sample environments. A micro-focusing option is also available accessing beam sizes ~10µm.
| | |
| --- | --- |
| Flux at 12.4keV on sample (ph/s): | 3.5 x 1012 in 250 x 80 µm 0.1% @ 300mA |
| Sample distance from source: | 47.35 m |
| Sample Volume: | Maximum 300 x 300 x 300 mm |
SAXS Detector

-

+
Pilatus P3-2M (Silicon hybrid pixel detector, DECTRIS)
Detector specifications

| | |
| --- | --- |
| Detector modules (W x H) | 3 x 8 |
| Sensor thickness [µm] | 450 |
| Active area (W x H) [mm²] | 253.7 x 288.8 |
| Pixel size [µm²] | 172 x 172 |
| Total pixels (W x H) | 1475 x 1679 = 2,476,525 |
| Gap width (hor./vert.) [pixel] | 7 / 17 |
| Dead area [%] | 8.0 |
| Bad pixel mask (Sept '14) [pixel] | 1479 (0.059%) |
| Max frame rate, full frame [Hz] | 250 |
| Readout time [ms] | 0.95 |
| Threshold energy [keV] | 2.7 - 18 |
| Counter depth | 20 bit (1,048,576 counts) |
WAXS Detector

-

+
Pilatus P3-2M-DLS-L (Silicon hybrid pixel detector, DECTRIS)
Detector modules (W x H)
3 x 8 (3 modules removed for SAXS signal bypass)
Sensor thickness [µm]
450
Active area (W x H) [mm²]

Standard 2M: 253.7 x 288.8 = 73,265.5

Removed Area: 85.0 x 109.4 = 9294.8

Total: 63,970.7

Pixel size [µm²]
172 x 172
Total pixels (W x H) [pixel]

Standard 2M: 1475 x 1679 = 2,476,525

Removed Area: 494 x 636 = 314,184

Total: 2,162,341

Gap width (hor./vert.) [pixel]
7 / 17
Defective pixels
<0.7%
Max frame rate, full frame [Hz]
250
Readout time [ms]
0.95
Threshold energy [keV]
2.7 - 18
Counter depth
20 bit (1,048,576 counts)