Update on Diamond's User Administration System (UAS)
Next call for proposals
The next submission for proposals for AP34 is open. The AP covers the period October 2023 - March 2024. Proposals must be submitted by 17.00 UCT+1 Wednesday 5th April.
Working conditions at Diamond are continuously subject to review and potential change. It is foreseen that with easing of pandemic conditions in the UK, Diamond may be able to open to additional numbers of users in the future, and so for this next call we are assuming we will be back to normal operations.
For submissions of proposals please see here: Apply for beamtime.
User Operations
On matters relating to Covid please see our Covid-19 advisory page.
It is still possible to run remotely with samples connected with work associated with combating COVID-19 either through an already approved BAG or through the rapid access submission.
Diamond is accepting rapid access proposals for COVID-19 related research - please follow the usual process for rapid access proposals.
March 2022 - Situation in Ukraine
Following the heart-breaking evolution of the situation in Ukraine, Diamond wants to express support to everyone who has been affected by these tragic events, especially those from our community.
With immediate effect, Diamond has taken the decision to suspend its work with Russian and Belarusian affiliated institutions, including suspending access for users from those institutions, until further notice.
Science has always been about bringing people together beyond all boundaries, promoting scientific excellence and peace. We stand with all those who seek peace amid this crisis and beyond.
We would like to advise that we cannot allow work on new samples that involve collaboration with Russian/Belarusian institutions. For data that has already been collected publication with these authors is up to PI, but we would ask that it is made clear that this is not recent beam time, by explicitly stating when the beam time was
ARRANGEMENTS FOR USERS from the EU and world-wide
Diamond continues to welcome all users to submit proposals and participate in experiments here. Users are welcome to come to Diamond for their research from anywhere in the world.
Funding for visits will continue as it did pre-Brexit, with users from EU organisations potentially being eligible for funding as stated in the Diamond expenses procedure, found here.
Visa guidance for Users
If you are a non-UK user you may need a visa to visit the UK.
If you are from the EU, the current rules state that you are allowed to travel to the UK for 6 months or less without needing a visa so you can continue to visit Diamond under the same arrangements as before Brexit.
A letter is available should you wish to support your visit, please contact the User Office for more information.
If you are non-UK/EU, you may need a visa to visit the UK – please check here to see if you will need to apply for a Standard Visitor visa.
A Standard Visitor visa allows you to undertake certain business activities such as attending a meeting or conference or to gather information for your employment overseas. You cannot do paid or unpaid work for Diamond (including work placements and internships). A Standard Visitor visa allows you to stay for a maximum of 6 months per visit. For further information please see the official guidance here.
Diamond also supports research submitted as part of EU grants. For more information on support for European access to research in the life sciences, please see here.
MX proposals - responsive mode
Diamond's Values
Diamond seeks to foster a culture of working that is reflected in five values (Respect, Excellence, Collaboration, Integrity and Innovation). These values help everyone who comes here to work or use Diamond's facilities to have a common framework of understanding how we relate to each other and what we aspire to.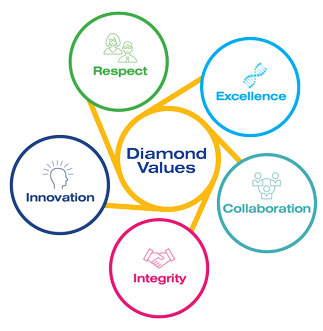 This benefits everyone:
• Everyone is valued, trusted and respected regardless of their gender, location, age, ethnicity, beliefs, role, grade, religion or other personal attributes - treated with respect
• Diamond will be a great place to work
• Clarity on how to behave well and what you can expect from others
• Identify and plan development to meet the challenges of your current role and future roles