Dirk Backes
Dirk Backes is a Senior Beamline Scientist on I06.
Email: dirk.backes@diamond.ac.uk

Tel: +44 (0) 1235 794076
Latest Diamond Publications
Current Research Interests
Proximity-induced magnetisation in antiferromagnet-topological insulator heterostructures: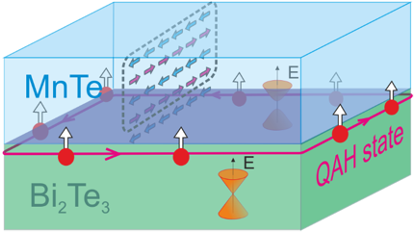 Magnetically doped topological insulators exhibit the quantum anomalous Hall (QAH) effect, characterised by a quantised Hall resistance and dissipationless longitudinal conductivity. The QAH state is 100% spin-polarised and does not, in principle, require cryogenic cooling or large magnetic fields. My approach to realise a QAH system is based on proximity-induced magnetisation in topological insulators when sharing an interface with a magnetically ordered but non-topological layer. My unique approach is to employ antiferromagnets, as they have a crucial advantages over ferromagnets which are commonly employed: antiferromagnets do not emanate magnetic stray fields as ferromagnets commonly do, avoiding interference with and disruption of QAH states. The XMLD effect in polarised x-ray spectroscopy is used for the characterisation of the antiferromagnet while polarised neutron reflectometry (PNR) is the ideal technique to detect PIM at interfaces. First results on MnTe/Bi2Te3heterostructures have been published in Physical Review Materials [1]. I currently work on optimising the materials, for example by controlling the antiferromagnetic domain structure, and by testing new materials. The outcomes of my research could lead to energy efficient electronics and to novel concepts for quantum computers which, unlike concepts based on superconducting circuits, do not require cryogenic cooling and operate at room temperature.
[1] G. Awana, R. Fujita, A. Frisk, P. Chen, Q. Yao, A. J. Caruana, C. J. Kinane, N.-J. Steinke, S. Langridge, P. Olalde-Velasco, S. S. Dhesi, G. van der Laan, X. F. Kou, S. L. Zhang, T. Hesjedal, and D. Backes, Critical Analysis of Proximity-Induced Magnetism in MnTe/Bi2Te3 Heterostructures, Phys. Rev. Materials 6, 053402 (2022).
Ultrafast dynamics in spin-torque nano oscillators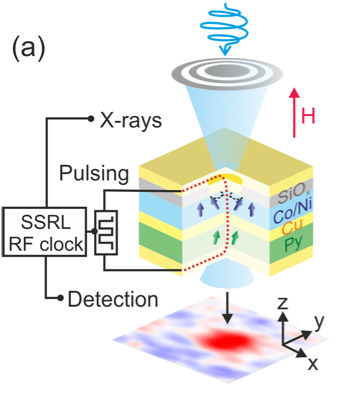 Spin torque nanocontact oscillators (STNO) are devices which generate microwaves in the Gigahertz frequency regime upon the application of dc currents. They can be used for near-field communication and find application in neuromorphic computing. My previous research was concerned with establishing procedures to design and deposit layer stacks of the multi-layered thin films such devices are based on. Furthermore, I found a method to fabricate fully functional devices, including a patterning procedure for the nanocontact which is only 100 nm in diameter. This required multiple cleanroom processing steps and testing the devices to refine the deposition and patterning processes. [2]. I was part of a team of researchers from NYU University and Stanford University who employed x-ray-based imaging to observe a localised soliton spin wave for the first time, using an STNO device fabricated by me [3]. Using dynamical x-ray imaging the time-dependence of such soliton spin waves could be recorded [4].
[2] F. Macià, D. Backes, and A. D. Kent, Stable Magnetic Droplet Solitons in Spin Transfer Nanocontacts, Nat. Nanotechnol. 9, 992 (2014).
[3] D. Backes et al., Direct Observation of a Localized Magnetic Soliton in a Spin-Transfer Nanocontact, Phys. Rev. Lett. 115, 127205 (2015).
[4] S. Bonetti et al., Direct Observation and Imaging of a Spin-Wave Soliton with p-like Symmetry, Nature Commun. 6, 8889 (2015).
Ferromagnetic resonance
Ferromagnetic resonance spectroscopy (FMR) is an important characterisation technique for magnetic materials, revealing information about magnetic anisotropy, g-factor, and magnetic damping. Furthermore, interactions between layers in magnetic multilayers can be probed, such as exchange bias, interlayer exchange, or spin-pumping effects. In my previous research, I employed FMR to characterise magnetic random access (MRAM) layer stacks [5] and build a room-temperature FMR setup to measure the magnetic anisotropy in pulsed-laser deposited CoFeB thin films [6]. At Diamond, I am constructing an FMR setup that can be operated at cryogenic temperatures, opening the window to a new range of materials with ordering temperatures below room temperature. The new capability will underpin research in the emerging fields of magnonics and will find application as fast-readout medium for reservoir computing using artificial spin ice or magnetic metamaterials.
[5] D. Backes, D. Bedau, H. Liu, J. Langer, and A. D. Kent, Characterization of interlayer interactions in magnetic random access memory layer stacks using ferromagnetic resonance, J. Appl. Phys. 111, 07C721 (2012)
[6] G. Awana, C. Cox, L. Stuffins, G. Venkat, K. Morrison, Z. Zhou, and D. Backes, Magnetic and structural properties of CoFeB thin films grown by pulsed laser deposition, Mater. Res. Express 7, 106406 (2020)
Dirk Backes joined I06 in 2019 as a Senior Beamline Scientist and works mainly in the area of x-ray spectroscopy using polarised light on the I06-1 branchline superconducting magnet.
Dirk received a PhD ('Dr. rer. nat.') from the University of Konstanz in Germany. He was based in Paul Scherrer Institute (PSI) in Switzerland, working with Prof. Laura Heyderman on thin film ferromagnetic nanostructures. For his research he made intensive use of the PEEM at SLS, Elettra and Diamond for imaging the spin structure of domain walls at length scales <100nm. 22 papers as author and co-author resulted from this project and he was invited to give a talk at the MNC Conference in Japan.
After a brief time in consulting, Dirk joined the group of Prof. Andy Kent at New York University. Sponsored by a start-up company, he developed an MRAM layer stack which employs the spin-transfer torque for storing information. This project led to several papers, among them an APL Author's Pick, and 2 patents. In another project, Dirk developed a process to grow and then fabricate spin-torque nano oscillator (STNO) devices. He was the first to observe localised spin waves in such devices, using the scanning transmission x-ray microscope at SLAC. One Nature Nanotechnology, a Nature Communications, a PRL and several other publications resulted from this work.
In 2014 Dirk was a postdoc in the Cavendish Laboratory at the University of Cambridge, collaborating with Prof. David Ritchie and Prof. Michael Pepper from UCL. Initially, his work focussed on localisation effects in mesoscopic GaAs-based 2DEGs. He then sought to apply low-temperature transport methods and fabrication techniques to other materials classes. He developed a particular interest for materials with non-trivial topological properties, as they combine fascinating spin with exotic electronic properties. First results published were on topological insulator heterostructures and electron-electron interactions.
In 2016 Dirk accepted a lecturer position in Loughborough University, UK. He gained first experience in large-class teaching and engaged in EDI activities at the university. He built up a ferromagnetic resonance (FMR) setup which quickly became very popular among students seeking an experimental topic for their Master or Bachelor thesis. Dirk investigated PLD-grown magnetic thin films and characterised their structural and magnetic properties, leading to his first publication as senior author. He was joined by his PhD student who won the Sir David and Lady Wallace Award for her PhD thesis.
In 2019 Dirk took up a post as Senior Beamline Scientist at Diamond Light Source in the UK, working mainly in the area of XMCD and XMLD on the I06-1 branchline superconducting magnet. He participates in user experiments, encompassing a wide range of research topics. His commitment to research excellence manifests in one Nature Physics and two Nature Communications papers. A big part of his time is now dedicated to projects, such as building new sample environments. He also manages a project to build up another FMR setup at Diamond, with the aim to carry out low-temperature measurements in future.
His new position enables him to pursue his passion for topological non-trivial materials. Dirk's research focuses on new methods to instil magnetisation in topological insulators, which are non-magnetic by default. He is particularly interested to explore if the proximity-induced magnetisation effect can be observed when a topological insulator is brought in contact with an antiferromagnet. To achieve this he employs x-ray spectroscopy (XMCD, XMLD) and neutron-based techniques (PNR). His second senior-author paper on this topic has recently been published in Phys. Rev. Materials and he jointly supervises a PhD student to work on this topic, together with Prof. Hesjedal, University of Oxford, and Prof. Langridge, ISIS Muon and Neutron Source.
53. D. Li, H. Wang, K. Li, B. Zhu, K. Jiang, D. Backes, L. S. I. Veiga, J. Shi, P. Roy, M. Xiao, A. Chen, Q. Jia, T.-L. Lee, S. S. Dhesi, D. O. Scanlon, J. L. MacManus-Driscoll, P. A. van Aken, K. H. L. Zhang, and W. Li
Emergent and Robust Ferromagnetic-Insulating State in Highly Strained LaCoO3 Thin Films
Nature Commun. 14, 3638 (2023)
DOI: 10.1038/s41467-023-39369-6
52. C. Schmitt, L. Sanchez-Tejerina, M. Filianina, F. Fuhrmann, H. Meer, R. Ramos, F. Maccherozzi, D. Backes, E. Saitoh, G. Finocchio, L. Baldrati, and M.Kläui
Identifiying the domain wall spin structure in antiferromagnetic NiO/Pt
Phys. Rev. B 107, 184417 (2023)
DOI: 10.1103/PhysRevB.107.184417
51. A. S. Johnson, D. Perez-Salinas, K. M. Siddiqui, S. Kim, S. Choi, K. Volckaert, P. E. Majchrzak, S. Ulstrup, N. Agarwal, K. Hallman, R. F. Haglund Jr., C. M. Günther, B. Pfau, S. Eisebitt, D. Backes, F. Maccherozzi, A. Fitzpatrick, S. S. Dhesi, P. Gargiani, M. Valvidares, N. Artrith, F. de Groot, H. Choi, D. Jang, A. Katoch, S. Kwon, S. H. Park, H. Kim, and S. E. Wall
Ultrafast X-ray imaging of the light-induced phase transition in VO2
Nature Phys. 19, 215 (2023)
DOI: 10.1038/s41567-022-01848-w
50. G. Awana, R. Fujita, A. Frisk, P. Chen, Q. Yao, A. J. Caruana, C. J. Kinane, N.-J. Steinke, S. Langridge, P. Olalde-Velasco, S. S. Dhesi, G. van der Laan, X. F. Kou, S. L. Zhang, T. Hesjedal, and D. Backes*
Critical analysis of proximity-induced magnetism in MnTe/Bi2Te3 heterostructures
Phys. Rev. Materials 6, 053402 (2022)
DOI: 10.1103/PhysRevMaterials.6.053402
49. X. Gu, C. Chen, W. S. Wei, L. L. Gao, J. Y. Liu, X. Du, D. Pei, J. S. Zhou, R. Z. Xu, Z. X. Yin, W. X. Zhao, Y. D. Li, C. Jozwiak, A. Bostwick, E. Rotenberg, D. Backes, L. S. I. Veiga, S. Dhesi, T. Hesjedal, G. van der Laan, H. F. Du, W. J. Jiang, Y. P. Qi, G. Li, W. J. Shi, Z. K. Liu, Y. L. Chen, and L. X. Yang
Robust kagome electronic structure in the topological quantum magnets XMn6Sn6 (X = Dy, Tb, Gd, Y)
Phys. Rev. B 105, 155108 (2022)
DOI: 10.1103/PhysRevB.105.155108
48. D. Li, B. Zhu, D. Backes, L. S. I. Veiga, T.-L. Lee, H. Wang, Q. He, P. Roy, J. Zhang, J. Shi, A. Chen, P. A. van Aken, Q. Jia, S. S. Dhesi, D. O. Scanlon, K. H. L. Zhang, and W. Li
Manipulating the metal-to-insulator transition and magnetic properties in manganite thin films via epitaxial strain
Phys. Rev. B 105, 165426 (2022)
DOI: 10.1103/PhysRevB.105.165426
47. S. P. Bommanaboyena, D. Backes, L. S. I. Veiga, S. S. Dhesi, Y. R. Niu, B. Sarpi, T. Denneulin, A. Kovács, T. Mashoff, O. Gomonay, J. Sinova, K. Everschor-Sitte, D. Schönke, R. M. Reeve, M. Kläui, H.-J. Elmers, and M. Jourdan
Readout of an antiferromagnetic spintronics system by strong exchange coupling of Mn2Au and Permalloy
Nature Commun. 12, 6539 (2021)
DOI: 10.1038/s41467-021-26892-7
46. P. J. Newton, N. B. Devlin, S. M. Masur, M. Ghidini, D. Backes, F. Maccherozzi, A. A. Pacheco-Pumaleque, M. A. González Esqueche, and C. H. W. Barnes
Magnetisation configuration in arrays of permalloy rectangles and its impact on magnetisation reversal
Mater. Res. Express 8, 096103 (2021)
DOI: 10.1088/2053-1591/ac2442
45. C. Schmitt, L. Baldrati, L. Sanchez-Tejerina, F. Schreiber, A. Ross, M. Filianina, S. Ding, F. Fuhrmann, R. Ramos, F. Maccherozzi, D. Backes, M.-A. Mawass, F. Kronast, S. Valencia, E. Saitoh, G. Finocchio, and M. Kläui
Identification of Néel Vector Orientation in Antiferromagnetic Domains Switched by Currents in NiO/Pt Thin Films
Phys. Rev. Applied 15, 034047 (2021)
DOI: 10.1103/PhysRevApplied.15.034047
44. S. Becker, A. Ross, R. Lebrun, L. Baldrati, S. Ding, F. Schreiber, F. Maccherozzi, D. Backes, M. Kläui, and G. Jakob
Electrical detection of the spin reorientation transition in antiferromagnetic TmFeO3 thin films by spin Hall magnetoresistance
Phys. Rev. B 103, 024423 (2021)
DOI: 10.1103/PhysRevB.103.024423
43. A. Ross, R. Lebrun, L. Baldrati, A. Kamra, O. Gomonay, S. Ding, F. Schreiber, D. Backes, F. Maccherozzi, D. A. Grave, A. Rothschild, J. Sinova, and M. Kläui
An insulating doped antiferromagnet with low magnetic symmetry as a room temperature spin conduit
Appl. Phys. Lett. 117, 242405 (2020)
DOI: 10.1063/5.0032940
42. G. Awana, C. Cox, L. Stuffins, G. Venkat, K. Morrison, Z. Zhou, and D. Backes*
Magnetic and structural properties of CoFeB thin films grown by pulsed laser deposition
Mater. Res. Express 7, 106406 (2020)
DOI: 10.1088/2053-1591/abc124
41. D. Backes*, D. Huang, R. Mansell, M. Lanius, J. Kampmeier, D. Ritchie, G. Mussler,
G. Gumbs, D. Grützmacher, and V. Narayan
Thickness dependence of electron-electron interactions in topological p-n junctions
Phys. Rev. B 99, 125139 (2019);
DOI: 10.1103/PhysRevB.99.125139; arXiv 1812.04978
40. D. Backes*, D. Huang, R. Mansell, M. Lanius, J. Kampmeier, D. Ritchie, G. Mussler, G. Gumbs, D. Grützmacher, and V. Narayan
Disentangling surface and bulk transport in topological-insulator p-n junctions
Phys. Rev. B 96, 125125 (2017)
DOI: 10.1103/PhysRevB.96.125125; arXiv 1605.06787
39. S. Lendínez, J. Hang, S. Vélez, J. M. Hernández, D. Backes, A. D. Kent, and F. Macià
Effect of Temperature on Magnetic Solitons Induced by Spin-Transfer Torque
Phys. Rev. Applied 7, 054027 (2017);
DOI: 10.1103/PhysRevApplied.7.054027; arXiv 1610.00931
38. T.-A. Nguyen, D. Backes, A. Singh, R. Mansell, C. Barnes, D. Ritchie, G. Mussler, M. Lanius, D. Grützmacher, and V. Narayan
Topological states and phase transitions in Sb2Te3-GeTe multilayers
Scientific Reports 6, 27716 (2016)
DOI: 10.1038/srep27716
37. D. Backes*, R. Hall, M. Pepper, H. Beere, D. Ritchie, and V. Narajan
'Metal-like' transport in high-resistance, high aspect ratio two-dimensional electron gases
Journal of Physics: Condens. Matter 28, 01LT01 (2016);
DOI: 10.1088/0953-8984/28/1/01LT01; arXiv 1510.00236
36. D. Backes*, R. Hall, M. Pepper, H. Beere, D. Ritchie, and V. Narajan
Observation of geometry-dependent conductivity in two-dimensional electron gases
Phys. Rev. B 92, 235427 (2015);
DOI: 10.1103/PhysRevB.92.235427; arXiv 1505.03444
35. D. Backes*, F. Macia, S. Bonetti, R. Kukreja, H. Ohldag, and A. D. Kent
Direct observation of large amplitude spin excitations localized in a spin-transfer nanocontact
Phys. Rev. Lett. 115, 127205 (2015);
DOI: 10.1103/PhysRevLett.115.127205; arXiv 1504.00488
34. S. Bonetti, R. Kukreja, J. Katine, F. Macia, D. Backes, A. D. Kent, J. Stöhr, H. Ohldag, and H. A. Dürr
Direct observation of a spin-wave soliton with a p-wave character
Nature Comm. 6, 8889 (2015);
DOI: 10.1038/ncomms9889; arXiv 1504.00144
33. S. Lendinez, N. Statuto, D. Backes, A.D. Kent, and F. Macia
Observation of droplet soliton drift resonances in a spin-transfer-torque nanocontact to a ferromagnetic thin film
Phys. Rev. B 92, 174426 (2015);
DOI: 10.1103/PhysRevB.92.174426; arXiv 1507.08218
32. R. Kukreja, S. Bonetti, Z. Chen, D. Backes, Y. Acremann, J. Katine, A. D. Kent, H. A. Dürr, H. Ohldag, J. Stöhr
X-ray detection of transient spin accumulation on Cu atoms near a Cu/Co interface
Phys. Rev. Lett. 115, 096601 (2015);
DOI: 10.1103/PhysRevLett.115.096601; arXiv 1503.07275
31. J. Billiald, D. Backes, J. König, I. Farrer, D. Ritchie, V. Narayan
Determining energy relaxation length scales in two-dimensional electron gases
Appl. Phys. Lett. 107, 022104 (2015);
DOI: 10.1063/1.4926338; arXiv 1504.06524
30. F. Macia, D. Backes, and A. D. Kent
Stable magnetic droplet solitons in spin-transfer nanocontacts
Nature Nanotech. 9, 992 (2014);
DOI: 10.1038/nnano.2014.255; arXiv 1408.1902
29. L. Ye, D. B. Gopman, L. Rehm, D. Backes, G. Wolf, T. Ohki, A. F. Kirichenko, I. V. Vernik, O. A. Mukhanov, and A. D. Kent
Spin-transfer switching of orthogonal spin-valve devices at cryogenic temperatures
J. Appl. Phys. 115, 17C725 (2014)
DOI: 10.1063/1.4865464
28. D. Backes*, D. Bedau, H. Liu, J. Langer, and A. D. Kent
Characterization of interlayer interactions in magnetic random access memory layer stacks using ferromagnetic resonance
J. Appl. Phys. 111, 07C721 (2012)
DOI: 10.1063/1.3679113
27. H. Liu, D. Bedau, D. Backes, J. A. Katine, and A. D. Kent
Precessional reversal in orthogonal spin transfer magnetic random access memory devices
Appl. Phys. Lett. 101, 032403 (2012)
DOI: 10.1063/1.4737010
26. M. Fonin, C. Hartung, U. Rüdiger, D. Backes, L. Heyderman, F. Nolting, A. Fraile Rodríguez, and M. Kläui
Formation of magnetic domains and domain walls in epitaxial Fe3O4(100) elements
J. Appl. Phys. 109, 07D315 (2011) (invited)
DOI: 10.1063/1.3540678
25. T.A. Moore, M. Kläui, L. Heyne, P. Möhrke, D. Backes, J. Rhensius, U. Rüdiger, L.J. Heyderman, T.O. Mentes, M.Á. Niño, A. Locatelli, A. Potenza, H. Marchetto, S. Cavill, and S.S. Dhesi
Domain wall velocity measurement in permalloy nanowires with X-ray magnetic circular dichroism imaging and single shot Kerr microscopy
J. Magn. Magn. Mat. 322, 1347 (2010)
DOI: 10.1016/j.jmmm.2009.06.048
24. D. Ilgaz, J. Nievendick, L. Heyne, D. Backes, J. Rhensius, T. A. Moore, M. A. Niño, A. Locatelli, T. O. Mentes, A. v. Schmidsfeld, A. v. Bieren, S. Krzyk, L. J. Heyderman, and M. Kläui
Domain-Wall Depinning Assisted by Pure Spin Currents
Phys. Rev. Lett. 105, 076601 (2010)
DOI: 10.1103/PhysRevLett.105.076601
23. J. Rhensius, L. Heyne, D. Backes, S. Krzyk, L. J. Heyderman, L. Joly, F. Nolting, and M. Kläui
Imaging of domain wall inertia in Permalloy half-ring nanowires by time-resolved photoemission electron microscopy
Phys. Rev. Lett. 104, 067201 (2010)
DOI: 10.1103/PhysRevLett.104.067201
22. T. A. Moore, P. Möhrke, L. Heyne, A. Kaldun, M. Kläui, D. Backes, J. Rhensius, L. J. Heyderman, J.-U. Thiele, G. Woltersdorf, A. Fraile Rodríguez, F. Nolting, T. O. Mentes, M. A. Niño, A. Locatelli, A. Potenza, H. Marchetto, S. Cavill, S. S. Dhesi
Magnetic-field-induced domain-wall motion in permalloy nanowires with modified Gilbert damping
Phys. Rev. B 82, 094445 (2010)
DOI: 10.1103/PhysRevB.82.094445
21. H. Liu, D. Bedau, D. Backes, J. A. Katine, J. Langer, and A. D. Kent
Ultrafast switching in magnetic tunnel junction based orthogonal spin transfer devices
Appl. Phys. Lett. 97, 242510 (2010)
DOI: 10.1063/1.3527962
à APL Author's Pick
20. M. Kläui, D. Ilgaz, L. Heyne, J.-S. Kim, O. Boulle, C. Schieback, F. Zinser, S. Krzyk, M. Fonin, U. Rüdiger, D. Backes, L. J. Heyderman, T. O. Mentes, and A. Locatelli
Concepts for Domain Wall Motion in Nanoscale Ferromagnetic Elements due to Spin Torque and in particular Oersted Fields
J. Mag. 14, 53 (2009)
DOI: 10.1016/j.mser.2011.04.001
19. L. Heyne, J. Rhensius, Y.-J. Cho, D. Bedau, S. Krzyk, C. Dette, H. S. Körner, J. Fischer, M. Laufenberg, D. Backes, L. J. Heyderman, L. Joly, F. Nolting, G. Tatara, H. Kohno, S. Seo, U. Rüdiger, and M. Kläui
Geometry-dependent scaling of critical current densities for current-induced domain wall motion and transformations
Phys. Rev. B 80, 184405 (2009)
DOI: 10.1103/PhysRevB.80.184405
18. T. A. Moore, M. Kläui, L. Heyne, P. Möhrke, D. Backes, J. Rhensius, U. Rüdiger, L. J. Heyderman, J.-U. Thiele, G. Woltersdorf, C. H. Back, A. Fraile Rodríguez, F. Nolting, T. O. Mentes, M. Á. Niño, A. Locatelli, A. Potenza, H. Marchetto, S. Cavill, and S. S. Dhesi
Scaling of spin relaxation and angular momentum dissipation in permalloy nanowires
Phys. Rev. B 80, 132403 (2009)
DOI: 10.1103/PhysRevB.80.132403
17. M. Laufenberg, M. Kläui, D. Backes, W. Bührer, H. Ehrke, D. Bedau, U. Rüdiger, F. Nolting, S. Cherifi, A. Locatelli, R. Belkhou, S. Heun, C. A. F. Vaz, J. A. C. Bland, L. J. Heyderman, T. Kasama, R. E. Dunin-Borkowski, A. Pavlovska, and E. Bauer
Domain wall spin structures in 3d metal ferromagnetic nanostructures
Adv. in Solid State Phys. 46, 281-293 (2008)
DOI: 10.1063/1.2836326
16. L. Heyne, M. Kläui, D. Backes, P. Möhrke, T. A. Moore, J. G. Kimling, O. Boulle, U. Rüdiger, L. J. Heyderman, A. Fraile Rodríguez, F. Nolting, K. Kirsch, and R. Mattheis
Direct imaging of current-induced domain wall motion in CoFeB structures
J. Appl. Phys. 103, 07D928 (2008)
DOI: 10.1063/1.2836326
15. F. Junginger, M. Kläui, D. Backes, S. Krzyk, U. Rüdiger, T. Kasama, R. E. Dunin-Borkowski, J.-M. Feinberg, R. J. Harrison, and L. J. Heyderman
Quantitative determination of vortex core dimensions in head-to-head domain walls using off-axis electron holography
Appl. Phys. Lett. 92, 112502 (2008)
DOI: 10.1063/1.2829601
14. L. Heyne, M. Kläui, D. Backes, T. A. Moore, S. Krzyk, U. Rüdiger, L. J. Heyderman,
A. Fraile Rodríguez, F. Nolting, T. O. Mentes, M. Á. Niño, A. Locatelli, K. Kirsch, and
R. Mattheis
Relationship between nonadiabaticity and damping in Permalloy studied by current induced spin structure transformations
Phys. Rev. Lett. 100, 066603 (2008)
DOI: 10.1103/PhysRevLett.100.066603
13. D. Ilgaz, M. Kläui, L. Heyne, O. Boulle, F. Zinser, S. Krzyk, M. Fonin, U. Rüdiger, D. Backes, and L. Heyderman
Selective domain wall depinning by localized Oersted fields and Joule heating
Appl. Phys. Lett. 93, 132503 (2008)
DOI: 10.1063/1.2990629
12. P. Möhrke, T. A. Moore, M. Kläui, J. Boneberg, D. Backes, S. Krzyk, L. J. Heyderman, P. Leiderer, and U. Rüdiger
Single shot Kerr magnetometer for observing real-time domain wall motion in permalloy nanowires
J. Phys. D: Appl. Phys. 41, 164009 (2008)
DOI: 10.1088/0022-3727/41/16/164009
11. E.-M. Hempe, M. Kläui, T. Kasama, D. Backes, F. Junginger, S. Krzyk, L. J. Heyderman,
R. Dunin-Borkowski, and U. Rüdiger
Domain walls, domain wall transformations and structural changes in Permalloy nanowires when subjected to current pulses
phys. stat. sol. (a) 204, 3922 (2007)
DOI: 10.1016/j.jmmm.2019.01.003
10. C. A. F. Vaz, T. J. Hayward, J. Llandro, F. Schackert, D. Morecroft, J. A. C. Bland, M. Kläui, M. Laufenberg, D. Backes, U. Rüdiger, F. J. Castaño, C. A. Ross, L. J. Heyderman, F. Nolting, A. Locatelli, G. Faini, S. Cherifi, and W. Wernsdorfer
Ferromagnetic nanorings
J. Phys.: Condens. Matter 19, 255207 (2007)
DOI: 10.1088/0953-8984/19/25/255207
9. F. Junginger, M. Kläui, D. Backes, U. Rüdiger, T. Kasama, R. E. Dunin-Borkowski, L. J. Heyderman, C. A. F. Vaz, and J. A. C. Bland
Spin torque and heating effects in current-induced domain wall motion probed by transmission electron microscopy
Appl. Phys. Lett. 90, 132506 (2007)
DOI: 10.1063/1.2709989
8. D. Backes*, C. Schieback, M. Kläui, F. Junginger, H. Ehrke, P. Nielaba, U. Rüdiger, L. J. Heyderman, C. S. Chen, T. Kasama, R. E. Dunin-Borkowski, C.A.F. Vaz, and J.A.C. Bland
Transverse Domain Walls in Nanoconstrictions
Appl. Phys. Lett. 91, 112502 (2007)
DOI: 10.1063/1.2779109
7. M. Kläui, M. Laufenberg, L. Heyne, D. Backes, U. Rüdiger, C. A. F. Vaz, J. A. C. Bland, L. J. Heyderman, S. Cherifi, A. Locatelli, T. O. Mentes, and L. Aballe
Current-induced vortex nucleation and annihilation in vortex domain walls
Appl. Phys. Lett. 88, 232507 (2006)
DOI: 10.1063/1.2209177
6. D. Backes*, L. J. Heyderman, C. David, R. Schäublin, M. Kläui, H. Ehrke, U. Rüdiger, C. A. F. Vaz, J. A. C. Bland, T. Kasama, and R. E. Dunin-Borkowski
Fabrication of curved-line nanostructures on membranes for transmission electron microscopy investigations of domain walls
Microelect. Eng. 83, 1726 (2006)
DOI: 10.1016/j.mee.2006.01.216
àYoung Authors Award MNE 2005
5. L. J. Heyderman, F. Nolting, D. Backes, S. Czekaj, L. Lopez-Diaz, M. Kläui, U. Rüdiger, C. A. F. Vaz, J. A. C. Bland, R. J. Matelon, U. G. Volkmann, and P. Fischer
Magnetization reversal in cobalt antidot arrays
Phys. Rev. B 73, 214429 (2006)
DOI: 10.1103/PhysRevB.73.214429
4. M. Laufenberg, D. Backes, W. Bührer, D. Bedau, M. Kläui, U. Rüdiger, C. A. F. Vaz, J. A. C. Bland, L. J. Heyderman, F. Nolting, S. Cherifi, A. Locatelli, R. Belkhou, S. Heun, and E. Bauer
Observation of thermally activated domain wall transformations
Appl. Phys. Lett. 88, 052507 (2006)
DOI: 10.1063/1.2168677
3. M. Laufenberg, D. Bedau, H. Ehrke, M. Kläui, U. Rüdiger, D. Backes, L. J. Heyderman, F. Nolting, C. A. F. Vaz, J. A. C. Bland, T. Kasama, R. E. Dunin-Borkowski, S. Cherifi, A. Locatelli, and S. Heun
Quantitative determination of domain wall coupling energetics
Appl. Phys. Lett. 88, 212510 (2006)
DOI: 10.1063/1.2207220
2. I. Neudecker, M. Kläui, K. Perzlmaier, D. Backes, L. J. Heyderman, C. A. F. Vaz, J. A. C. Bland, U. Rüdiger, and C. H. Back
Spatially resolved dynamic Eigenmode spectrum of Co rings
Phys. Rev. Lett. 96, 057207 (2006)
DOI: 10.1103/PhysRevLett.96.057207
1. M. Kläui, H. Ehrke, U. Rüdiger, T. Kasama, R. E. Dunin-Borkowski, D. Backes, L. J. Heyderman, C. A. F. Vaz, J. A. C. Bland, G. Faini, E. Cambril, and W. Wernsdorfer
Direct observation of domain-wall pinning at nanoscale constrictions
Appl. Phys. Lett. 87, 102509 (2005)
DOI: 10.1063/1.2042542
Patents:
U.S. Patent US 2014/0103472 A1, "Inverted Orthogonal Spin Transfer Layer Stack", A. D. Kent and D. Backes, filed 14/10/2013
U.S. Patent US 2014/0103473 A1, "Increased Magnetoresistance in an Inverted Orthogonal Spin Transfer Layer Stack", A. D. Kent and D. Backes, filed 14/10/2013

Publications

53. D. Li, H. Wang, K. Li, B. Zhu, K. Jiang, D. Backes, L. S. I. Veiga, J. Shi, P. Roy, M. Xiao, A. Chen, Q. Jia, T.-L. Lee, S. S. Dhesi, D. O. Scanlon, J. L. MacManus-Driscoll, P. A. van Aken, K. H. L. Zhang, and W. Li
Emergent and Robust Ferromagnetic-Insulating State in Highly Strained LaCoO3 Thin Films
Nature Commun. 14, 3638 (2023)
DOI: 10.1038/s41467-023-39369-6

52. C. Schmitt, L. Sanchez-Tejerina, M. Filianina, F. Fuhrmann, H. Meer, R. Ramos, F. Maccherozzi, D. Backes, E. Saitoh, G. Finocchio, L. Baldrati, and M.Kläui
Identifiying the domain wall spin structure in antiferromagnetic NiO/Pt
Phys. Rev. B 107, 184417 (2023)
DOI: 10.1103/PhysRevB.107.184417

51. A. S. Johnson, D. Perez-Salinas, K. M. Siddiqui, S. Kim, S. Choi, K. Volckaert, P. E. Majchrzak, S. Ulstrup, N. Agarwal, K. Hallman, R. F. Haglund Jr., C. M. Günther, B. Pfau, S. Eisebitt, D. Backes, F. Maccherozzi, A. Fitzpatrick, S. S. Dhesi, P. Gargiani, M. Valvidares, N. Artrith, F. de Groot, H. Choi, D. Jang, A. Katoch, S. Kwon, S. H. Park, H. Kim, and S. E. Wall
Ultrafast X-ray imaging of the light-induced phase transition in VO2
Nature Phys. 19, 215 (2023)
DOI: 10.1038/s41567-022-01848-w

50. G. Awana, R. Fujita, A. Frisk, P. Chen, Q. Yao, A. J. Caruana, C. J. Kinane, N.-J. Steinke, S. Langridge, P. Olalde-Velasco, S. S. Dhesi, G. van der Laan, X. F. Kou, S. L. Zhang, T. Hesjedal, and D. Backes*
Critical analysis of proximity-induced magnetism in MnTe/Bi2Te3 heterostructures
Phys. Rev. Materials 6, 053402 (2022)
DOI: 10.1103/PhysRevMaterials.6.053402

49. X. Gu, C. Chen, W. S. Wei, L. L. Gao, J. Y. Liu, X. Du, D. Pei, J. S. Zhou, R. Z. Xu, Z. X. Yin, W. X. Zhao, Y. D. Li, C. Jozwiak, A. Bostwick, E. Rotenberg, D. Backes, L. S. I. Veiga, S. Dhesi, T. Hesjedal, G. van der Laan, H. F. Du, W. J. Jiang, Y. P. Qi, G. Li, W. J. Shi, Z. K. Liu, Y. L. Chen, and L. X. Yang
Robust kagome electronic structure in the topological quantum magnets XMn6Sn6 (X = Dy, Tb, Gd, Y)
Phys. Rev. B 105, 155108 (2022)
DOI: 10.1103/PhysRevB.105.155108

48. D. Li, B. Zhu, D. Backes, L. S. I. Veiga, T.-L. Lee, H. Wang, Q. He, P. Roy, J. Zhang, J. Shi, A. Chen, P. A. van Aken, Q. Jia, S. S. Dhesi, D. O. Scanlon, K. H. L. Zhang, and W. Li
Manipulating the metal-to-insulator transition and magnetic properties in manganite thin films via epitaxial strain
Phys. Rev. B 105, 165426 (2022)
DOI: 10.1103/PhysRevB.105.165426

47. S. P. Bommanaboyena, D. Backes, L. S. I. Veiga, S. S. Dhesi, Y. R. Niu, B. Sarpi, T. Denneulin, A. Kovács, T. Mashoff, O. Gomonay, J. Sinova, K. Everschor-Sitte, D. Schönke, R. M. Reeve, M. Kläui, H.-J. Elmers, and M. Jourdan
Readout of an antiferromagnetic spintronics system by strong exchange coupling of Mn2Au and Permalloy
Nature Commun. 12, 6539 (2021)
DOI: 10.1038/s41467-021-26892-7

46. P. J. Newton, N. B. Devlin, S. M. Masur, M. Ghidini, D. Backes, F. Maccherozzi, A. A. Pacheco-Pumaleque, M. A. González Esqueche, and C. H. W. Barnes
Magnetisation configuration in arrays of permalloy rectangles and its impact on magnetisation reversal
Mater. Res. Express 8, 096103 (2021)
DOI: 10.1088/2053-1591/ac2442

45. C. Schmitt, L. Baldrati, L. Sanchez-Tejerina, F. Schreiber, A. Ross, M. Filianina, S. Ding, F. Fuhrmann, R. Ramos, F. Maccherozzi, D. Backes, M.-A. Mawass, F. Kronast, S. Valencia, E. Saitoh, G. Finocchio, and M. Kläui
Identification of Néel Vector Orientation in Antiferromagnetic Domains Switched by Currents in NiO/Pt Thin Films
Phys. Rev. Applied 15, 034047 (2021)
DOI: 10.1103/PhysRevApplied.15.034047

44. S. Becker, A. Ross, R. Lebrun, L. Baldrati, S. Ding, F. Schreiber, F. Maccherozzi, D. Backes, M. Kläui, and G. Jakob
Electrical detection of the spin reorientation transition in antiferromagnetic TmFeO3 thin films by spin Hall magnetoresistance
Phys. Rev. B 103, 024423 (2021)
DOI: 10.1103/PhysRevB.103.024423

43. A. Ross, R. Lebrun, L. Baldrati, A. Kamra, O. Gomonay, S. Ding, F. Schreiber, D. Backes, F. Maccherozzi, D. A. Grave, A. Rothschild, J. Sinova, and M. Kläui
An insulating doped antiferromagnet with low magnetic symmetry as a room temperature spin conduit
Appl. Phys. Lett. 117, 242405 (2020)
DOI: 10.1063/5.0032940

42. G. Awana, C. Cox, L. Stuffins, G. Venkat, K. Morrison, Z. Zhou, and D. Backes*
Magnetic and structural properties of CoFeB thin films grown by pulsed laser deposition
Mater. Res. Express 7, 106406 (2020)
DOI: 10.1088/2053-1591/abc124

41. D. Backes*, D. Huang, R. Mansell, M. Lanius, J. Kampmeier, D. Ritchie, G. Mussler,
G. Gumbs, D. Grützmacher, and V. Narayan
Thickness dependence of electron-electron interactions in topological p-n junctions
Phys. Rev. B 99, 125139 (2019);
DOI: 10.1103/PhysRevB.99.125139; arXiv 1812.04978

40. D. Backes*, D. Huang, R. Mansell, M. Lanius, J. Kampmeier, D. Ritchie, G. Mussler, G. Gumbs, D. Grützmacher, and V. Narayan
Disentangling surface and bulk transport in topological-insulator p-n junctions
Phys. Rev. B 96, 125125 (2017)
DOI: 10.1103/PhysRevB.96.125125; arXiv 1605.06787

39. S. Lendínez, J. Hang, S. Vélez, J. M. Hernández, D. Backes, A. D. Kent, and F. Macià
Effect of Temperature on Magnetic Solitons Induced by Spin-Transfer Torque
Phys. Rev. Applied 7, 054027 (2017);
DOI: 10.1103/PhysRevApplied.7.054027; arXiv 1610.00931

38. T.-A. Nguyen, D. Backes, A. Singh, R. Mansell, C. Barnes, D. Ritchie, G. Mussler, M. Lanius, D. Grützmacher, and V. Narayan
Topological states and phase transitions in Sb2Te3-GeTe multilayers
Scientific Reports 6, 27716 (2016)
DOI: 10.1038/srep27716

37. D. Backes*, R. Hall, M. Pepper, H. Beere, D. Ritchie, and V. Narajan
'Metal-like' transport in high-resistance, high aspect ratio two-dimensional electron gases
Journal of Physics: Condens. Matter 28, 01LT01 (2016);
DOI: 10.1088/0953-8984/28/1/01LT01; arXiv 1510.00236

36. D. Backes*, R. Hall, M. Pepper, H. Beere, D. Ritchie, and V. Narajan
Observation of geometry-dependent conductivity in two-dimensional electron gases
Phys. Rev. B 92, 235427 (2015);
DOI: 10.1103/PhysRevB.92.235427; arXiv 1505.03444

35. D. Backes*, F. Macia, S. Bonetti, R. Kukreja, H. Ohldag, and A. D. Kent
Direct observation of large amplitude spin excitations localized in a spin-transfer nanocontact
Phys. Rev. Lett. 115, 127205 (2015);
DOI: 10.1103/PhysRevLett.115.127205; arXiv 1504.00488

34. S. Bonetti, R. Kukreja, J. Katine, F. Macia, D. Backes, A. D. Kent, J. Stöhr, H. Ohldag, and H. A. Dürr
Direct observation of a spin-wave soliton with a p-wave character
Nature Comm. 6, 8889 (2015);
DOI: 10.1038/ncomms9889; arXiv 1504.00144

33. S. Lendinez, N. Statuto, D. Backes, A.D. Kent, and F. Macia
Observation of droplet soliton drift resonances in a spin-transfer-torque nanocontact to a ferromagnetic thin film
Phys. Rev. B 92, 174426 (2015);
DOI: 10.1103/PhysRevB.92.174426; arXiv 1507.08218

32. R. Kukreja, S. Bonetti, Z. Chen, D. Backes, Y. Acremann, J. Katine, A. D. Kent, H. A. Dürr, H. Ohldag, J. Stöhr
X-ray detection of transient spin accumulation on Cu atoms near a Cu/Co interface
Phys. Rev. Lett. 115, 096601 (2015);
DOI: 10.1103/PhysRevLett.115.096601; arXiv 1503.07275

31. J. Billiald, D. Backes, J. König, I. Farrer, D. Ritchie, V. Narayan
Determining energy relaxation length scales in two-dimensional electron gases
Appl. Phys. Lett. 107, 022104 (2015);
DOI: 10.1063/1.4926338; arXiv 1504.06524

30. F. Macia, D. Backes, and A. D. Kent
Stable magnetic droplet solitons in spin-transfer nanocontacts
Nature Nanotech. 9, 992 (2014);
DOI: 10.1038/nnano.2014.255; arXiv 1408.1902

29. L. Ye, D. B. Gopman, L. Rehm, D. Backes, G. Wolf, T. Ohki, A. F. Kirichenko, I. V. Vernik, O. A. Mukhanov, and A. D. Kent
Spin-transfer switching of orthogonal spin-valve devices at cryogenic temperatures
J. Appl. Phys. 115, 17C725 (2014)
DOI: 10.1063/1.4865464

28. D. Backes*, D. Bedau, H. Liu, J. Langer, and A. D. Kent
Characterization of interlayer interactions in magnetic random access memory layer stacks using ferromagnetic resonance
J. Appl. Phys. 111, 07C721 (2012)
DOI: 10.1063/1.3679113

27. H. Liu, D. Bedau, D. Backes, J. A. Katine, and A. D. Kent
Precessional reversal in orthogonal spin transfer magnetic random access memory devices
Appl. Phys. Lett. 101, 032403 (2012)
DOI: 10.1063/1.4737010

26. M. Fonin, C. Hartung, U. Rüdiger, D. Backes, L. Heyderman, F. Nolting, A. Fraile Rodríguez, and M. Kläui
Formation of magnetic domains and domain walls in epitaxial Fe3O4(100) elements
J. Appl. Phys. 109, 07D315 (2011) (invited)
DOI: 10.1063/1.3540678

25. T.A. Moore, M. Kläui, L. Heyne, P. Möhrke, D. Backes, J. Rhensius, U. Rüdiger, L.J. Heyderman, T.O. Mentes, M.Á. Niño, A. Locatelli, A. Potenza, H. Marchetto, S. Cavill, and S.S. Dhesi
Domain wall velocity measurement in permalloy nanowires with X-ray magnetic circular dichroism imaging and single shot Kerr microscopy
J. Magn. Magn. Mat. 322, 1347 (2010)
DOI: 10.1016/j.jmmm.2009.06.048

24. D. Ilgaz, J. Nievendick, L. Heyne, D. Backes, J. Rhensius, T. A. Moore, M. A. Niño, A. Locatelli, T. O. Mentes, A. v. Schmidsfeld, A. v. Bieren, S. Krzyk, L. J. Heyderman, and M. Kläui
Domain-Wall Depinning Assisted by Pure Spin Currents
Phys. Rev. Lett. 105, 076601 (2010)
DOI: 10.1103/PhysRevLett.105.076601

23. J. Rhensius, L. Heyne, D. Backes, S. Krzyk, L. J. Heyderman, L. Joly, F. Nolting, and M. Kläui
Imaging of domain wall inertia in Permalloy half-ring nanowires by time-resolved photoemission electron microscopy
Phys. Rev. Lett. 104, 067201 (2010)
DOI: 10.1103/PhysRevLett.104.067201

22. T. A. Moore, P. Möhrke, L. Heyne, A. Kaldun, M. Kläui, D. Backes, J. Rhensius, L. J. Heyderman, J.-U. Thiele, G. Woltersdorf, A. Fraile Rodríguez, F. Nolting, T. O. Mentes, M. A. Niño, A. Locatelli, A. Potenza, H. Marchetto, S. Cavill, S. S. Dhesi
Magnetic-field-induced domain-wall motion in permalloy nanowires with modified Gilbert damping
Phys. Rev. B 82, 094445 (2010)
DOI: 10.1103/PhysRevB.82.094445

21. H. Liu, D. Bedau, D. Backes, J. A. Katine, J. Langer, and A. D. Kent
Ultrafast switching in magnetic tunnel junction based orthogonal spin transfer devices
Appl. Phys. Lett. 97, 242510 (2010)
DOI: 10.1063/1.3527962
à APL Author's Pick

20. M. Kläui, D. Ilgaz, L. Heyne, J.-S. Kim, O. Boulle, C. Schieback, F. Zinser, S. Krzyk, M. Fonin, U. Rüdiger, D. Backes, L. J. Heyderman, T. O. Mentes, and A. Locatelli
Concepts for Domain Wall Motion in Nanoscale Ferromagnetic Elements due to Spin Torque and in particular Oersted Fields
J. Mag. 14, 53 (2009)
DOI: 10.1016/j.mser.2011.04.001

19. L. Heyne, J. Rhensius, Y.-J. Cho, D. Bedau, S. Krzyk, C. Dette, H. S. Körner, J. Fischer, M. Laufenberg, D. Backes, L. J. Heyderman, L. Joly, F. Nolting, G. Tatara, H. Kohno, S. Seo, U. Rüdiger, and M. Kläui
Geometry-dependent scaling of critical current densities for current-induced domain wall motion and transformations
Phys. Rev. B 80, 184405 (2009)
DOI: 10.1103/PhysRevB.80.184405

18. T. A. Moore, M. Kläui, L. Heyne, P. Möhrke, D. Backes, J. Rhensius, U. Rüdiger, L. J. Heyderman, J.-U. Thiele, G. Woltersdorf, C. H. Back, A. Fraile Rodríguez, F. Nolting, T. O. Mentes, M. Á. Niño, A. Locatelli, A. Potenza, H. Marchetto, S. Cavill, and S. S. Dhesi
Scaling of spin relaxation and angular momentum dissipation in permalloy nanowires
Phys. Rev. B 80, 132403 (2009)
DOI: 10.1103/PhysRevB.80.132403

17. M. Laufenberg, M. Kläui, D. Backes, W. Bührer, H. Ehrke, D. Bedau, U. Rüdiger, F. Nolting, S. Cherifi, A. Locatelli, R. Belkhou, S. Heun, C. A. F. Vaz, J. A. C. Bland, L. J. Heyderman, T. Kasama, R. E. Dunin-Borkowski, A. Pavlovska, and E. Bauer
Domain wall spin structures in 3d metal ferromagnetic nanostructures
Adv. in Solid State Phys. 46, 281-293 (2008)
DOI: 10.1063/1.2836326

16. L. Heyne, M. Kläui, D. Backes, P. Möhrke, T. A. Moore, J. G. Kimling, O. Boulle, U. Rüdiger, L. J. Heyderman, A. Fraile Rodríguez, F. Nolting, K. Kirsch, and R. Mattheis
Direct imaging of current-induced domain wall motion in CoFeB structures
J. Appl. Phys. 103, 07D928 (2008)
DOI: 10.1063/1.2836326

15. F. Junginger, M. Kläui, D. Backes, S. Krzyk, U. Rüdiger, T. Kasama, R. E. Dunin-Borkowski, J.-M. Feinberg, R. J. Harrison, and L. J. Heyderman
Quantitative determination of vortex core dimensions in head-to-head domain walls using off-axis electron holography
Appl. Phys. Lett. 92, 112502 (2008)
DOI: 10.1063/1.2829601

14. L. Heyne, M. Kläui, D. Backes, T. A. Moore, S. Krzyk, U. Rüdiger, L. J. Heyderman,
A. Fraile Rodríguez, F. Nolting, T. O. Mentes, M. Á. Niño, A. Locatelli, K. Kirsch, and
R. Mattheis
Relationship between nonadiabaticity and damping in Permalloy studied by current induced spin structure transformations
Phys. Rev. Lett. 100, 066603 (2008)
DOI: 10.1103/PhysRevLett.100.066603

13. D. Ilgaz, M. Kläui, L. Heyne, O. Boulle, F. Zinser, S. Krzyk, M. Fonin, U. Rüdiger, D. Backes, and L. Heyderman
Selective domain wall depinning by localized Oersted fields and Joule heating
Appl. Phys. Lett. 93, 132503 (2008)
DOI: 10.1063/1.2990629

12. P. Möhrke, T. A. Moore, M. Kläui, J. Boneberg, D. Backes, S. Krzyk, L. J. Heyderman, P. Leiderer, and U. Rüdiger
Single shot Kerr magnetometer for observing real-time domain wall motion in permalloy nanowires
J. Phys. D: Appl. Phys. 41, 164009 (2008)
DOI: 10.1088/0022-3727/41/16/164009

11. E.-M. Hempe, M. Kläui, T. Kasama, D. Backes, F. Junginger, S. Krzyk, L. J. Heyderman,
R. Dunin-Borkowski, and U. Rüdiger
Domain walls, domain wall transformations and structural changes in Permalloy nanowires when subjected to current pulses
phys. stat. sol. (a) 204, 3922 (2007)
DOI: 10.1016/j.jmmm.2019.01.003

10. C. A. F. Vaz, T. J. Hayward, J. Llandro, F. Schackert, D. Morecroft, J. A. C. Bland, M. Kläui, M. Laufenberg, D. Backes, U. Rüdiger, F. J. Castaño, C. A. Ross, L. J. Heyderman, F. Nolting, A. Locatelli, G. Faini, S. Cherifi, and W. Wernsdorfer
Ferromagnetic nanorings
J. Phys.: Condens. Matter 19, 255207 (2007)
DOI: 10.1088/0953-8984/19/25/255207

9. F. Junginger, M. Kläui, D. Backes, U. Rüdiger, T. Kasama, R. E. Dunin-Borkowski, L. J. Heyderman, C. A. F. Vaz, and J. A. C. Bland
Spin torque and heating effects in current-induced domain wall motion probed by transmission electron microscopy
Appl. Phys. Lett. 90, 132506 (2007)
DOI: 10.1063/1.2709989

8. D. Backes*, C. Schieback, M. Kläui, F. Junginger, H. Ehrke, P. Nielaba, U. Rüdiger, L. J. Heyderman, C. S. Chen, T. Kasama, R. E. Dunin-Borkowski, C.A.F. Vaz, and J.A.C. Bland
Transverse Domain Walls in Nanoconstrictions
Appl. Phys. Lett. 91, 112502 (2007)
DOI: 10.1063/1.2779109

7. M. Kläui, M. Laufenberg, L. Heyne, D. Backes, U. Rüdiger, C. A. F. Vaz, J. A. C. Bland, L. J. Heyderman, S. Cherifi, A. Locatelli, T. O. Mentes, and L. Aballe
Current-induced vortex nucleation and annihilation in vortex domain walls
Appl. Phys. Lett. 88, 232507 (2006)
DOI: 10.1063/1.2209177

6. D. Backes*, L. J. Heyderman, C. David, R. Schäublin, M. Kläui, H. Ehrke, U. Rüdiger, C. A. F. Vaz, J. A. C. Bland, T. Kasama, and R. E. Dunin-Borkowski
Fabrication of curved-line nanostructures on membranes for transmission electron microscopy investigations of domain walls
Microelect. Eng. 83, 1726 (2006)
DOI: 10.1016/j.mee.2006.01.216
àYoung Authors Award MNE 2005

5. L. J. Heyderman, F. Nolting, D. Backes, S. Czekaj, L. Lopez-Diaz, M. Kläui, U. Rüdiger, C. A. F. Vaz, J. A. C. Bland, R. J. Matelon, U. G. Volkmann, and P. Fischer
Magnetization reversal in cobalt antidot arrays
Phys. Rev. B 73, 214429 (2006)
DOI: 10.1103/PhysRevB.73.214429

4. M. Laufenberg, D. Backes, W. Bührer, D. Bedau, M. Kläui, U. Rüdiger, C. A. F. Vaz, J. A. C. Bland, L. J. Heyderman, F. Nolting, S. Cherifi, A. Locatelli, R. Belkhou, S. Heun, and E. Bauer
Observation of thermally activated domain wall transformations
Appl. Phys. Lett. 88, 052507 (2006)
DOI: 10.1063/1.2168677

3. M. Laufenberg, D. Bedau, H. Ehrke, M. Kläui, U. Rüdiger, D. Backes, L. J. Heyderman, F. Nolting, C. A. F. Vaz, J. A. C. Bland, T. Kasama, R. E. Dunin-Borkowski, S. Cherifi, A. Locatelli, and S. Heun
Quantitative determination of domain wall coupling energetics
Appl. Phys. Lett. 88, 212510 (2006)
DOI: 10.1063/1.2207220

2. I. Neudecker, M. Kläui, K. Perzlmaier, D. Backes, L. J. Heyderman, C. A. F. Vaz, J. A. C. Bland, U. Rüdiger, and C. H. Back
Spatially resolved dynamic Eigenmode spectrum of Co rings
Phys. Rev. Lett. 96, 057207 (2006)
DOI: 10.1103/PhysRevLett.96.057207

1. M. Kläui, H. Ehrke, U. Rüdiger, T. Kasama, R. E. Dunin-Borkowski, D. Backes, L. J. Heyderman, C. A. F. Vaz, J. A. C. Bland, G. Faini, E. Cambril, and W. Wernsdorfer
Direct observation of domain-wall pinning at nanoscale constrictions
Appl. Phys. Lett. 87, 102509 (2005)
DOI: 10.1063/1.2042542

Patents:

U.S. Patent US 2014/0103472 A1, "Inverted Orthogonal Spin Transfer Layer Stack", A. D. Kent and D. Backes, filed 14/10/2013
U.S. Patent US 2014/0103473 A1, "Increased Magnetoresistance in an Inverted Orthogonal Spin Transfer Layer Stack", A. D. Kent and D. Backes, filed 14/10/2013