Asfarul Haque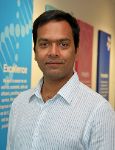 Senior Applications Engineer, cryo-Electron Microscopy
Email: industry@diamond.ac.uk

Tel: Tel: +44 (0)1235 778305
Biography

-
Asfarul joined ThermoFisher Scientific in early 2019, and since then, he has been based at the eBIC for Industry facility at Diamond, as one of its members. During his PhD at CSIR–Centre for Cellular and Molecular Biology, Hyderabad, India, he studied the mechanistic aspects of the functioning of nonribosomal peptide synthetases (NRPSs) using X-ray crystallography and SAXS. He pursued his postdoctoral studies at McGill University, Montreal, Canada, where he performed structural studies of NRPSs and ribosomes using electron microscopy (EM). He also had a short postdoctoral stint at Birkbeck College, London, UK.

At eBIC for Industry, with his strong interest in EM, Asfarul aspires to use the technique to address new challenges and provide fresh insights that could facilitate pharma companies in their pursuit of drug discovery.
Scientific Interests

-

+
The advent of direct electron detectors, advanced electron microscopes that generate a well-collimated electron beam, and the development of robust algorithms that could perform beam-induced motion correction have created immense excitement in the field of cryo-electron microscopy (cryo-EM). These breakthroughs have resulted in the determination of medium to high-resolution structures. As a result, gaining structural insights into large biological macromolecules, which are recalcitrant to structure determination by X-ray crystallography, nuclear magnetic resonance, or small-angle X-ray scattering (SAXS), is now within reach.

Asfarul's research interest involves the development of a user-friendly sample preparation method for cryo-EM, and structural studies of a myriad range of biological samples using integrated structural biology.
Publications

-

+
Janice Riemer*, Asfarul S. Haque*, Michael J. Tarry* and T. Martin Schmeing, Piecing together nonribosomal peptide synthesis, Current Opinion in Structural Biology (2018) 49: 104–113. DOI: 10.1016/j.sbi.2018.01.011