User Operations under COVID-19 conditions
Current plans to increase user numbers accessing Diamond on site
Diamond plan to resume our 6-day running week from Wed 16th Jun 2021. If user experiments can be fully carried out remotely or by mail-in where practical this should still be the default delivery of beamtime. However, for users whose experiments cannot be undertaken remotely or where mail-in is not practical, user visits are now allowed; we remind you that access is limited to up to two users onsite at any one time. Shift working will be considered, with a total of 4 users per visit working in teams of 2 people. See below for descriptions of the working levels at Diamond.
Please ensure your visit is submitted at least 2 weeks prior to your arrival date to ensure that your site entry is organised.
Non-UK users will need to follow the Government guidance and be aware that you may have to quarantine which may make your visit impractical.
Testing for COVID-19 is possible at Diamond, see here for further information.
Diamond has created safe and manageable working protocols and Site instructions, please take time to familiarise yourselves with these if you are planning a visit.
It is still possible to run remotely with samples connected with work associated with combating COVID-19 either through an already approved BAG or through the rapid access submission.
Diamond is accepting rapid proposals for COVID-19 related research – see below for details.
Beamline working conditions
Diamond is currently operating to keep staff and users safe.
The working levels we have defined are different from the UK government levels - they are defined in this way:
Currently at Level 3 (experiments run by staff on behalf of users. Limited staff presence to run experiments. No users on site. Strict social distancing and working protocols.)
Level 2: We will attempt to schedule cancelled AP27 experiments that are feasible under Level 2 conditions. This means: Limited user presence on site, maximum 2 users at the beamline at any time. Limited staff presence. Strict social distancing and working protocols. Possibly beam available into the weekend. Staff will not be expected to be on site in the evenings or at the weekend.
Level 1: Experiments which require operation at Level 1 (normal user operation) are unlikely to be scheduled, and Principal Investigators are encouraged to re-apply with a simplified experiment when the next call opens.
When a new call for proposals is made, experiments will be assessed for their feasibility at the expected operating Level.
We are panning to run the schedule of sessions over a normal 6-day week in 2021 with some users being able to visit Diamond to conduct their experiments.
Please respect these points when writing your proposal:
Consider whether your experiment is feasible if no users can come to Diamond (Level 3).
We may be at Level 2, with only two users per experiment permitted on site at any one time, but shift working will be considered, with a total of 4 users working in teams of 2 people.
With limited user numbers per experiment, 24 hour operation may not be possible, due to the risk of user and staff fatigue.
Social distancing and COVID-19 working protocols increase the length of time required to perform tasks.
Ensure that you will have samples ready for scheduling at short notice. It will not be possible to accommodate user preferences for "good" and "bad" dates.
Beamline staff cannot take responsibility for setting up or operating sample environments owned by users.
Complicated, ambitious experimental equipment setups are not encouraged until we are confident that Level 1, normal user operation is possible.
As always, please discuss the feasibility of your proposal with beamline staff before submission.
Submit your proposals to UAS
The protocols Diamond works to can be found here.
BREXIT ARRANGEMENTS FOR USERS
Diamond continues to welcome all users to submit proposals and participate in experiments here. Users are welcome to come to Diamond for their research from anywhere in the world.
EU users coming to Diamond are advised to consult the formal govenment website for the latest updated information on what is required when arriving at the border. Please click here for more information.
Diamond also supports research submitted as part of EU grants. For more information on support for European access to research in the life sciences, please see here.
Before you arrive: Go to the COVID-19 Protocols
MX proposals - responsive mode
Rapid Access Call for Proposals: SARS-CoV-2
Diamond would like to ensure that it is doing everything possible to support researchers in their efforts to discover more about the COVID-19 virus and bring us closer to an effective vaccine or treatment.
With this in mind, we are offering priority rapid access for groups who require instrument time for projects directly related to SARS-CoV-2 viral proteins. Based on the number and nature of requests for priority rapid access, Diamond will make every effort to satisfy research priorities.
Submit a proposal for COVID-19 related research using the rapid access form here. This form should be used for MX and Biological Cryo-Imaging proposals, for other proposals please use the form in the administration system. Please include this in your submission this using the usual Rapid proposal route as described here.
Or contact the team here: COVID19ACCESS@diamond.ac.uk
UK national information relating to COVID-19
Diamond is aligning its approach to this outbreak with PHE Advice (Public Health England's advisory website) and UK Gov. Travel Advice - These pages are updated regularly and you are advised to check the latest UK government statements through these sites.
If you believe you are at increased risk for any other reason, please see: https://111.nhs.uk/) to discuss personal risk and then adhere to their advice.
Diamond's Values
Diamond seeks to foster a culture of working that is reflected in five values (Respect, Excellence, Collaboration, Integrity and Innovation). These values help everyone who comes here to work or use Diamond's facilities to have a common framework of understanding how we relate to each other and what we aspire to.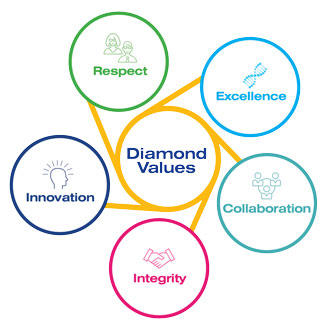 This benefits everyone:
• Everyone is valued, trusted and respected regardless of their gender, location, age, ethnicity, beliefs, role, grade, religion or other personal attributes - treated with respect
• Diamond will be a great place to work
• Clarity on how to behave well and what you can expect from others
• Identify and plan development to meet the challenges of your current role and future roles