Rob Bosman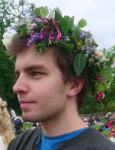 Robert Bosman is a PDRA with the UK XFEL-Hub.
Email: robert.bosman@diamond.ac.uk

Tel: +44 (0)1235 567667
Latest Publications
Current Research Interests
The recent developement of Time-resovled Serial crystallography allows the study of proteins with high temporal as well as spatial resolution. My research interests are focused around exploiting room temperature serial crystallography at XFELs and synchotrons to better understand how subtle protein structure considerations affect enzyme catalysis as well as more general protein functions. During my PhD I primarily worked with phototriggerable rhodopsins.