David Serban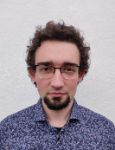 David Serban is a PhD student on beamline I16 in a joint position between Diamond and University of Southhampton.
Email: david.serban@diamond.ac.uk

Biography
David-Alexandru Serban
Since September 2020 I have been a postgraduate researcher within the Coherent X-ray Science group, Physics and Astronomy, Faculty of Engineering and Physical Sciences, University of Southampton, in combination with Diamond Light Source on beamline I16.
Prior to this, I studied physics at the University of Southampton and in my Master's degree I studied Bragg Coherent X-ray Diffraction Imaging of VO2 nanocrystals under the supervision of Dr Marcus Newton.
My current research concerns mainly the imaging of Li-based battery materials using Bragg Coherent X-ray Diffraction Imaging. Additionally, I am improving my programming skills for both further phasing algorithms implementation and my passion for robotics.