Anuradha Vibhakar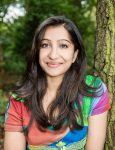 Anuradha Vibhakar is a Post Doctoral Research Associate working on I16.
Email: anuradha.vibhakar@diamond.ac.uk

Tel: +44 (0) 1235 821900
Techniques and Disciplines
Other Specialist Areas
Magnetism
Condensed Matter Physics
Latest Publications
Current Research Interests
Currently, my research interests span crystalline systems that demonstrate long range order. I enjoy solving the ordered structures a system may adopt, determining the microscopic origins of the ordered phase, and finding the physical mechanisms motivating the transitions between different phases.
I like to use a number of different probes to perform my research, primarily x-ray and neutron scattering, and symmetry analysis.
Biography
I am a Postdoctoral Research Associate on I16. I was awarded a DPhil in Condensed Matter Physics from the University of Oxford in 2021. During my doctorate, I studied the magnetic order of the columnar ordered quadruple perovskites, primarily using neutron scattering, and a symmetry and group theoretical approach to data analysis. I read for an MSci in Natural Sciences at University College London, which I completed in 2017.