Beamline

-
Beamline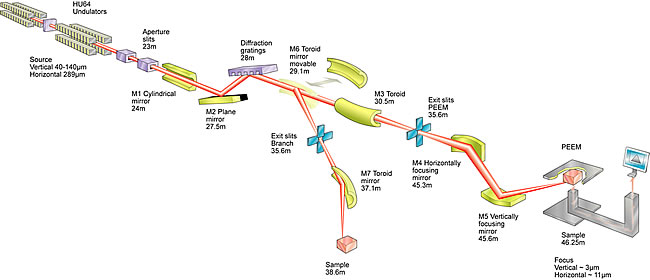 | | |
| --- | --- |
| Energy range (first harmonic circular) (eV) | 106 - 1300 |
| Energy range (linear horizontal) (eV) | 80 - 2100 |
| Energy range (linear vertical) (eV) | 130 - 1500 |
| Resolving power (Δ E/E) | 10,000 @ 400eV |
| Spot size at PEEM (µm) (FWHM) | 10 (H) x 3 (V) |
| Spot size on sample surface (µm) | f = 10 |
PEEM

-

+
PEEM
PhotoEmission Electron Microscope (PEEM)
Typically ~100nm depending on surface quality.
Typical sample volume
10 x 10 x 1mm2
Pressure
Ultra High Vacuum
Temperature range
150 - 1800 K
Flux at sample @ 780 eV (circular mode) (ph/s)
2.0 x 1012
Flux at sample @ 780 eV (linear mode) (ph/s)

1.5 x 1012

Prep chamber with LEED, AES, STM, MBE growth facilities
Load lock allows sample change in < 30 minutes
All dosing and adsorption to be agreed with PBS.
Optics

-

+
Optics
Collimated light plane grating monochromator.
Kirkpatrick Baez bending mirrors for PEEM refocus.
Source

-

+
Source
| | |
| --- | --- |
| Insertion device | 2 APPLE II undulators |
| Nominal magnet length (m) | 2 x 2.112 |
| Nominal magnet gap (mm) | 15 |
| Magnet period (mm) | 64 |
| Number of periods | 2 x 33 |
| Nominal magnet gap (mm) | 15 |
| Peak field in horizontal mode (T) | 0.94 |
| Peak field in vertical mode (T) | 0.72 |
| Peak field in circular mode (T) | 0.57 |
| KMAX in horizontal mode | 5.6 |
| KMAX in vertical mode | 4.3 |
| KMAX in circular mode | 3.4 |