Benedikt Daurer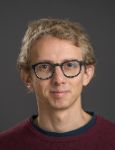 Benedikt Daurer is the I08/ I08-1 Data Analysis Scientist for ptychography.
Email: benedikt.daurer@diamond.ac.uk

Tel: +44 (0) 1235 778400
Key Research Area
Ptychography, Coherent Diffractive Imaging
Benedikt Daurer's research is focused on the development of new computational methods and software tools for high-resolution imaging applications at synchrotron, free-electron laser and electron microscopy facilities. In particular, he is interested in combining ptychographic imaging with tomography and spectroscopy providing multi-dimensional structural insights for Biological and Material Science applications at high spatial resolution. He is also interested in physics-driven machine learning approaches.
Benedikt Daurer received his PhD in 2017 from Uppsala University, Sweden. He wrote his doctoral thesis on "Algorithms for Coherent Diffractive Imaging with X-ray Lasers". He was a post-doctoral Research Fellow at the National University of Singapore in 2018-2020 working on novel computational methods for X-ray imaging and electron microscopy.
Since 2020, he is employed as the I08/I08-1 Data Analysis Scientist for ptychography at the Diamond Light Source.