Catherine Disney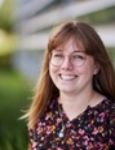 Catherine is PDRA on I12 started in 2022.
Email: catherine.disney@diamond.ac.uk

Tel: +44 (0) 123577 8154
Catherine started as a PDRA on I12 in 2022. Her research aims to use phase contrast tomography to measure tissue mechanics in the spine. This involves tomographic imaging to resolve tissue architectures (such as collagen and elastic networks in the intervertebral disc) and developing analysis methods to quantify displacements of these structures using digital volume correlation (DVC). She was awarded the 2022 Computational Science Centre for Research Communities (CoSeC) Impact Award for her research applying DVC and developing the iDVC app with Collaborative Computational Project in Tomographic Imaging (CCPi). Previously, Catherine worked as a Post-Doctoral Research Fellow at UCL and the Research Complex at Harwell (RCaH) to combine tomography and small angle x-ray scattering techniques. Catherine also worked as PDRA at the University of Manchester where she was awarded an EPSRC Doctoral Prize Fellowship. She received her PhD from the Centre for Doctoral Training in Regenerative Medicine at the University of Manchester in 2018 and a First-Class Honours degree in Mechanical Engineering (MEng) from the University of Liverpool in 2014.
Publications
Publication list can be found on Catherine Disney's ORCID webpage.